By Rick Ruhlow • Kingfisher Sportfishing
As of this writing we are well into our Green season (first of October), a time when many of the boats in the country haul out for their annual maintenance and to make any repairs that were not absolutely necessary during the high season.
This is not to say that the fishing is bad, far from it, it's just rainy. If you don't mind a little rain you can find some great fishing.  The boats in our zone  and further north continue to see schools of porpoise, many loaded up with yellowfin tuna. Marlin are being seen regularly, there were even reports of boats seeing marlin in the double digits, although this may have been due to a nice piece of float some found floating offshore. The dorado are everywhere and this will probably continue into the new year. The point is there are still plenty of fish around, but with fewer boats scouting sometimes they are harder to find.
By the time the readers see this we will be at the beginning of our high season, the sails, marlin, tuna and dorado will all be in attendance, the weather turns sunny, the water blue and more boats will be fishing. If some of that beautiful clean water pushes in close to shore, I imagine we will see a few wahoo as well!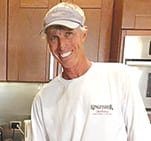 Originally from California, Rick Ruhlow moved to Costa Rica over 33 years ago. While exploring the country he fished Playa Naranjo (gulf of Nicoya), Quepos, Drakes Bay and Flamingo, before discovering Playa Carrillo almost 28 years ago. He was the Fishing Manager/Captain  for the newly re-opened Hotel Guanamar for three years, before venturing off on his own. He has been owner/operator of Kingfisher Sportfishing since 1995. Contact Rick at kingfish@racsa.co.cr