By Rick Ruhlow • Kingfisher Sportfishing
As anticipated, the months of June and July have seen  the billfish slowly trickling our way. We are still not seeing sails in double digits, but it is the norm for boats up and down the coast to have at least a few shots at  marlin and sails when fishing a full day.
It seems the tuna bite has improved as well. Almost every trip the boats fishing out of Carrillo and Garza are bringing home some nice tuna filets for dinner. After a long hiatus, the spotted dolphin are being seen again, together with bait, birds, and yellowfin a bit larger than we find with the spinners.
The fish found with the spotted dolphin seem to be a bit more aggressive. We are getting good bites and hook ups tossing the poppers into breaking tuna.
Closer inshore we are still finding the smaller mahi, but the bigger ones still abound further offshore, either mingling with groups of porpoise or meandering alone in what appears to be an "optical void" at times. All in all the outlook remains good for the remainder of the season, but if you don't go you wont know!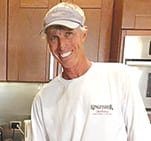 Originally from California, Rick Ruhlow moved to Costa Rica over 33 years ago. While exploring the country he fished Playa Naranjo (gulf of Nicoya), Quepos, Drakes Bay and Flamingo, before discovering Playa Carrillo almost 28 years ago. He was the Fishing Manager/Captain  for the newly re-opened Hotel Guanamar for three years, before venturing off on his own. He has been owner/operator of Kingfisher Sportfishing since 1995. Contact Rick at kingfish@racsa.co.cr