By Rick Ruhlow • Kingfisher Sportfishing
I would be less than honest if I said  the fishing was hot, but  if you put your time in  and be patient, you can still have some great days. There might even be that surprise wahoo bite!
The offshore fishing has been up and down between Cabo Blanco and Punta Guiones. Most of the boats are fishing anywhere from 6 to 40 miles from their mooring, looking for that something extra (bluer water, a current line, objects floating, bait, mammal life, birds, temperature change etc.). Charter boats have been getting two or three shots at a billfish, whether that be a sail or a marlin,  almost every day.  There was a brief run of black marlin, but that was short lived.
The spinner dolphin continue to be plentiful, and they all seem to be holding tuna, but getting the bite is not always easy. Water remains a nice blue/ green color, with a steady slow current. We had been seeing lots of flying fish, especially closer to the edge (600ft), but no significant marks on the sounder.
The end of April and first part of May has been showing a lot of promise. As is normal, boats to the north were consistently seeing sails in the double digits, as well as a few marlin. It has started to rain again, and the run outs of debris are creating havens for the dorado to hide under, those often becoming the "star" of the day.
July and August (green season) is a favorite time for fishing in Guanacaste. The billfishing, along with other pelagic species is generally  good. The climate is a tad cooler, everything is a lush tropical green, and airfares reasonable! The outlook is good so grab your passport and book a fishing trip, You won't be disappointed!!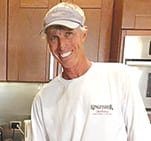 Originally from California, Rick Ruhlow moved to Costa Rica over 33 years ago. While exploring the country he fished Playa Naranjo (gulf of Nicoya), Quepos, Drakes Bay and Flamingo, before discovering Playa Carrillo almost 28 years ago. He was the Fishing Manager/Captain  for the newly re-opened Hotel Guanamar for three years, before venturing off on his own. He has been owner/operator of Kingfisher Sportfishing since 1995. Contact Rick at kingfish@racsa.co.cr