By Rick Ruhlow • Kingfisher Sportfishing
I wish I could regal everyone with endless stories of great fishing for the month of February, but in truth while January started off fast and hot, it slowed down considerably  during the month of February in our area.
Not to say we did not see any action or have epic days. Larry Chamberlain, fishing alone, went 3 for 9 on the marlin, and caught one sail, slamming out! (blue, stripe and sail) with two nice mahi mahi as kickers.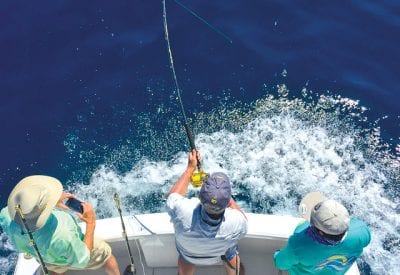 There were other good days, but still, overall, we were not seeing near the numbers of sails and marlin that we traditionally expect at this time of the year. Greener water, strange currents and a notable lack of bait could be responsible (especially the bait), but I remain convinced that fishing conditions have started to cycle back to how they were many years ago.
While we are not seeing much in the way of the bait "haystacks," there seems to be an abundance of life. The water temperature has been good.  Porpoise/dolphin are still plentiful, and most of the schools are carrying tuna. We are seeing giant mantas, whales, flying fish, and turtles regularly.
All this making me very optimistic for the upcoming months, which is traditionally a great time for the sails.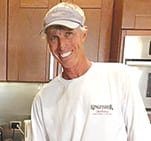 Originally from California, Rick Ruhlow moved to Costa Rica over 33 years ago. While exploring the country he fished Playa Naranjo (gulf of Nicoya), Quepos, Drakes Bay and Flamingo, before discovering Playa Carrillo almost 28 years ago. He was the Fishing Manager/Captain  for the newly re-opened Hotel Guanamar for three years, before venturing off on his own. He has been owner/operator of Kingfisher Sportfishing since 1995. Contact Rick at kingfish@racsa.co.cr