By Rick Ruhlow • Kingfisher Sportfishing
The marlin and sails have been trickling our way since the beginning of December, and most of the boats that have been getting out are at least having a shot at one or two. As we move into February we anticipate seeing a substantial increase in the amount of billfish being seen in the spread.
For the meat hunters the mahi mahi bite has continued to be a constant source of action . . . and dinner! Boats have been putting at least one or two in the box almost every trip. The best news though, is the increase in the tuna activity. Almost all the schools of spinner dolphin have been holding tuna, and some of them sizeable.
While it is not always easy to get them to eat, if you have the patience and time, chances are you will eventually be rewarded with your rod bent over double, and you'll be digging into a nice plate of sashimi on the ride home!
The Kingfisher closed out the year with a blue marlin, sailfish, and a couple of nice dorado, and brought the new year in with a pair of mahi, a sailfish, and a YFT in the 90 pound range! The best part of all is that this is just the beginning of our high season!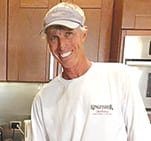 Originally from California, Rick Ruhlow moved to Costa Rica over 33 years ago. While exploring the country he fished Playa Naranjo (gulf of Nicoya), Quepos, Drakes Bay and Flamingo, before discovering Playa Carrillo almost 28 years ago. He was the Fishing Manager/Captain  for the newly re-opened Hotel Guanamar for three years, before venturing off on his own. He has been owner/operator of Kingfisher Sportfishing since 1995. Contact Rick at kingfish@racsa.co.cr