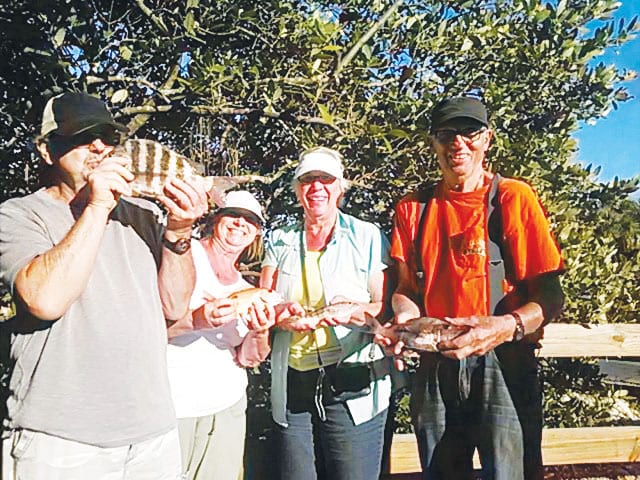 by Capt. Bart Marx
March in SW Florida is some of the greatest weather that we have in Florida. It makes for a great day to go out and enjoy creation, a day on the water. It also can be a great time to target an inshore slam. An inshore slam is when you catch a snook, red fish, and trout all in the same day. You could turn it into a grand slam by adding a tarpon to the mix. For fun, you could target a garbage can slam of catfish, ladyfish, and jack Crevalle. Save the ladyfish to help catch a red for your slam. Use them as cut baits and the reds will smell them out and help you with your slam. Jacks and catfish just good for a tug a war game on the line. This is the type of fishing inshore this time of year. And March you can keep one each of these species they all are good to eat.
You can check my website for recipes for each species. There should be some whitebait showing up to harvest, as bait to target these species. I use a 10ft. 3/8 mesh cast net most of the time, you may want a ¼ in. net this time of year the baits are small and get caught in the 3/8 in. and we call this a Christmas tree. This is when the small baits get caught in the bigger mesh and is a mess to cleanup. If you have the means to have ¼ and 3/8 nets it is a wonderful thing. The ¼ in. you only use for a few weeks 6-8 till the baits grow and are large enough to use the 3/8. These are great baits for inshore fishing and offshore. Using these baits offshore this month bottom fishing, you can target mangrove and lane snapper, flounder included. These species should be close to shore on the artificial reefs. Those of you that fish lots you have some of those natural bottom spots that hold these species. One thing that I do is start each time with frozen baits till the bite slows down then start with the live bait shrimp or whitebait. You get the bite started with leftover frozen shrimp from some of you past outings, I use squid and frozen sardines too, to get things started. Some have the extra freezer where your wife lets you keep frozen fish bait and chum this is a great thing.
I sometimes save the leftover white bait and I have an old chum churn to grind the bait over the side of the boat it works well. This also can be done at night for the snapper when the sun is not out. If you are interested in learning how to catch some of these species. Or would like me to come on your boat to help you catch some.
Give Capt. Bart Marx a call at 941-979-6517 or e-mail him at [email protected] to help you with your angling skills. So always remember singing drags and tight lines make me smile. <*(((((>{