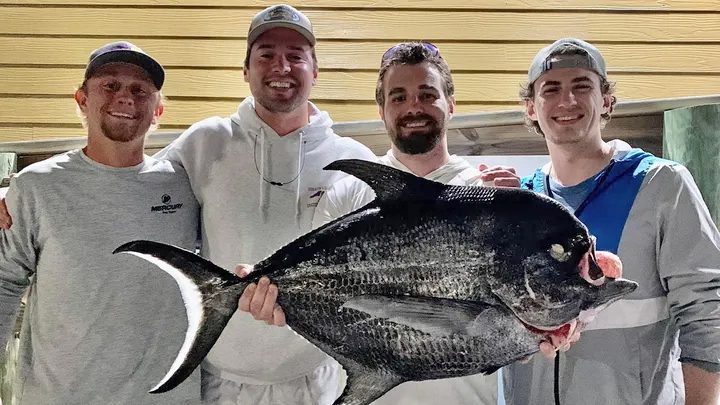 On April 21, Jeremiah Elliott, his brother Zachary Elliott, Chandler Butler and Trevor Burns went out on his 30-foot regulator center console 50 miles due east of Morehead City, North Carolina in search of swordfish. But instead of catching a sword, the anglers landed a rare, world-record-breaking bigscale pomfret.
"We were dropping squid about 2,000 feet down, and we didn't realize we had a fish on," Elliott recalled. "We didn't even know there was anything on until it came to the top."
And when it did, Elliott said he and his fellow anglers were unable to identify the species of fish at first and had to wait for their cell service to kick back in as they got closer to shore to figure out they had caught a bigscale pomfret—big enough to set records!
"It's a weird looking fish," he added. "It's like prehistoric, almost."
Elliott and his fellow anglers took their bigscale pomfret to the nearest weigh station, where the fish weighed 26 pounds, 11.4 ounces and had a 35.5 inch fork length and a 30.75-inch girth.
The N.C. Division of Marine Fisheries reported that Elliott set the official record in North Carolina for the bigscale pomfret, as no previous records for that species exist in the state, but Elliott's fish beats the current IGFA World Record listed at 20 pounds, 10 ounces caught in Florida in 2004. Elliott stated he will be applying for a new IGFA World Record.
The bigscale pomfret (Taractichthys longipinnis) can be found deep in the Atlantic Ocean and is the largest species in the pomfret family.