We are a volunteer led youth organization that hosts High School and Junior Series (Middle School) bass tournaments at various lakes and rivers across the State. With the popularity of high school fishing clubs being formed nationally, these events give young anglers a chance to experience the competitive atmosphere surrounding such programs and allows them to join an existing team or start their own team at their school or in their community.
Teams consist of two anglers and an adult boat captain. Fish tournaments to win single event awards and earn points to qualify for the National Championship (High School). Fish enough events to qualify for the State Championship, and finish in the Top 2 to qualify to fish in the BASS Nation National Championships — High school or Junior Series! BASS membership and BASS Nation membership are required. Discounted BASS memberships for students are available online at bassmaster.com. We are a BASS and BASS Nation affiliated organization.
HOW TO START A B.A.S.S. HIGH SCHOOL CLUB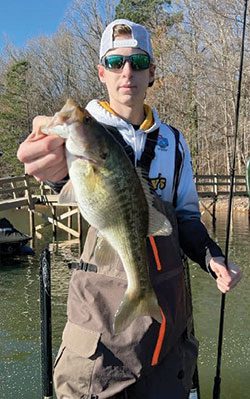 B.A.S.S. High School Nation clubs foster leadership, problem solving and public speaking skills, promote environmental awareness and responsibility, as well as teach kids the fun of fishing. If your club is ready to contribute to the future of our sport, follow these easy steps to start your own B.A.S.S. High School club.
WHAT YOU NEED:
1. A desire and commitment to encourage youth fishing
2. A minimum of two (2) interested students grades 9-12, and a  club advisor.
Once your club makes the decision to form a B.A.S.S. High School Nation club, you should begin recruiting members.
Once established, the B.A.S.S. High School club needs to begin holding regular meetings and activities. Advisor duties will include supervising the meetings and functions of the club, helping the students hold elections for their officers, planning club meetings and programs and, of course, helping the students learn about the great sport of fishing.
When planning the programs for the club, keep in mind that the programs should be fun, interesting and interactive. Programs that are dull, unorganized or too long will lose the students attention. Ask for the students input when deciding on the agenda and activities; remember, it is their club.
STATE CHAMPIONSHIP
High Rock Lake – Southmont Boat Access
899 Wildlife Recreation Area Access Road, Lexington, NC
May 20-21, 2023