By: Capt. Chad Dilts
Sport Fish Michigan
(877) 442-4294
www.sportfishmichigan.com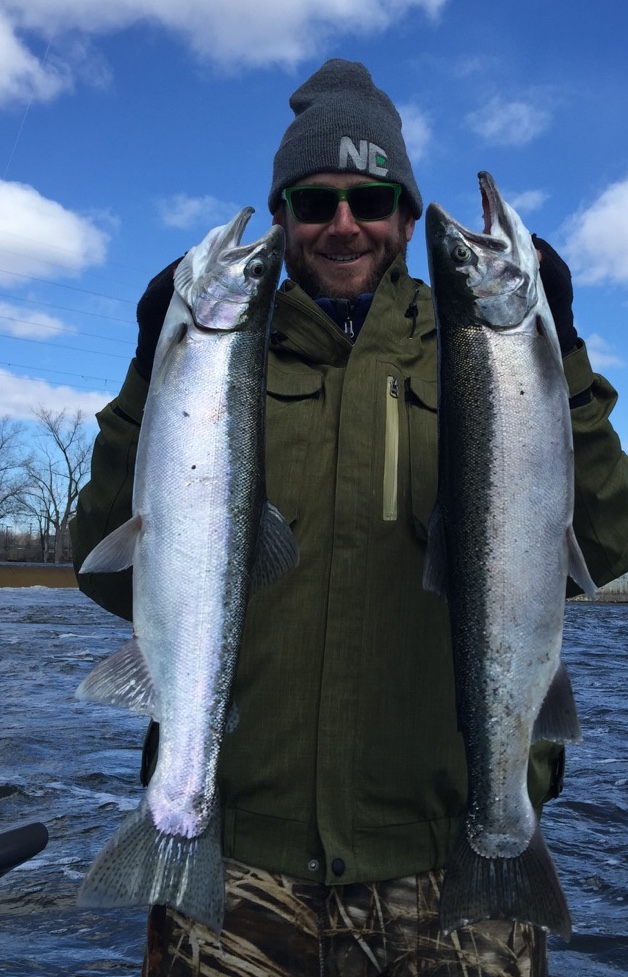 Spring has finally arrived; we at Sport Fish Michigan are very excited to take advantage of all the great angling opportunities April has to offer. This is the time that we have all been waiting for, putting away the ice fishing equipment and dusting off the cover of the boat in hopes to hit the open water. With inconsistent temperatures and minimal ice coverage, most lakes in Northern Michigan should provide some excellent fishing this spring.
Grand Traverse Bay can really shine in April, jigging, casting and trolling for shallow water lake trout, cisco, browns and steelhead can be very productive. As the bay water gradually warms anglers will find schooling cisco feeding on bait fish and insects in close to the drop off. 40-80 feet of water is typically the best depth for any technique when searching for cisco and trout. However, do not be afraid to venture into 20-30 feet, schools have a tendency to form in shallower water as the month progresses and water temperatures rise.
Anglers wanting to cast or jig should have a variety of weapons in their tackle arsenal. When targeting trout and cisco in deeper water, vertical jigging is most effective. White, chartreuse, and gold can be very good colors. Elk Rapids S Jigs, Jonah Jig's and Swedish Pimples will work best for this application. When targeting fish inside of 40 feet, blade baits definitely come into play. Retrieving blade baits along the bottom and making contact with the sand and rocks can trigger aggressive bites from both species.
For those looking to troll, lead core should make up most of the program. Covering the water column at different depths in April is very important. The water column will be filled with cold water with no define temperature break, this allows an array of species the opportunity to feed at all depths. 2, 5, 7, and 10 colors of lead can be good for targeting suspended fish. Smaller spoon presentations in gold, chartreuse, orange and silver are all good colors. Mini Silver Streaks, Warrior Flutter Spoons and Stinger trolling spoons are great options. Anglers running lighter fluorocarbon line on down riggers and slide divers will also have good luck in targeting all species in Grand Traverse Bay.
With cold waters here in Northern Michigan, take caution when heading out and make sure that you have all of the safety gear required before you go. Have an awesome April, and we look forward to seeing you on the water!