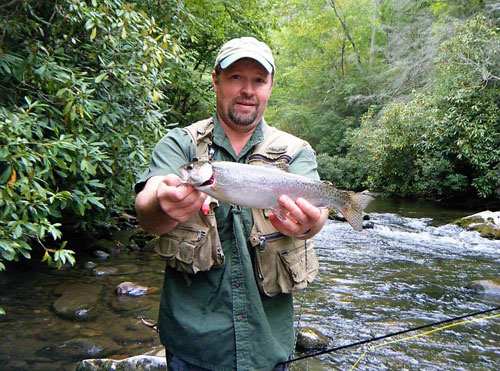 By Ronnie Parris
Hey folks, April is here and the fish are biting! This is one of those times of year that we love, especially us guides. I can usually take folks and catch fish anywhere, using any style.
If you're a trout angler, the dry fly bite is heating up in the Great Smoky Mountains. You will need to wait till mid-day for the temps to produce good bug activity. For the angler who can't wait till noon, nymphs at daybreak should produce lots of pan-sized brookies, browns and rainbows.
Hatchery waters will open up at 7 am on April 1st. The limit is 7 fish per person and there are no lure restrictions. As a kid, I looked forward to this day more than Christmas. From the time I was old enough to follow my dad and carry his trout on a forked stick, I didn't miss a single opener. Recently however, my love of turkey hunting has gotten in the way. There's still no better time to take your kid and get them hooked on fishing than opening day. Streams will be stuffed with fish that are all too eager to take your offerings, whether it's artificial or live bait. I would suggest getting out early, as the other anglers will be competing for the best spots. I remember one year my dad told me I could take my best buddy with us but as we left his house, the truck began to shake and after we pulled off the side of the road, I was horrified to find we had a flat tire. As a 12 year old, I thought this was the end of the world because surely, by the time dad got the tire changed, all my school buddies would have caught all the trout in Alarka Creek. Well, dad made fast work of the tire change and like most opening days, within an hour or so we all had caught our limits of fat rainbows.
The fishing in the lakes will be wide open this month too. As the water warms, we should see a good top water bite. Jerk baits and poppers should also work. The walleye should just be finishing up on the spawn and will be eager to build back some fat. In the daytime, they will be located on points and deep drops, but one of my favorite ways to catch them is to night fish as the walleye come up shallow to feed. I usually slowly drag a night crawler off the bank, a foot at a time. Be sure not to set the hook when you first feel the fish hit, as they usually just have the tail end of the night crawler. You should drop your rod tip and give them about 5 seconds to get the hook in their mouth before setting the hook. Crappie are usually in full swing this time of year and can be taken on either live minnows or small jigs. I usually try to use minnows if I find fish schooled up…and artificials if they're scattered.
The weather should be great and you may even hear an old turkey "gobble". Let me know if I can set up a guide trip for you…I know you will catch a lot of fish and go home with a lot of great memories. Be safe on the water and take a kid fishing I know you will be glad you did.
Ronnie Parris is the Owner and Head Guide of Smoky Mountain Outdoors Unlimited-Fontana Lake Fishing Guides, headquartered in Bryson City, North Caronina, heart of the beautiful Great Smoky Mountains. (www.smounlimited.com)