Fishing Forecast
By Patrick Barone
November is here and has ushered in the consistently cooler temperatures of Fall. In Massachusetts waters, the fall trout stocking program has been complete for a few weeks. After the initial shock of the process, the fish should now be acclimated to their new homes and feeding heavily. In the many ponds and lakes that are stocked, both brown and rainbow trout will be cruising the shallows looking for food. It doesn't take much to entice a strike from a freshly stocked trout. If you are spin fishing in a still water location you have many options; power bait, mepps spinners, rapalas, and even live minnows and worms will all produce. If you are fishing in a river many of the same techniques will work as long as you account for the effect the water's flow will have on your offering. Often times this means using more weight or a larger spinner than you might in a pond to ensure you are reaching the correct depth. If you are fly fishing, try throwing bigger nymphs in sizes 10-16, keeping Caddis, Pheasant Tails, San Juan Worms, and Walt's Worms in the selection for surefire action. Check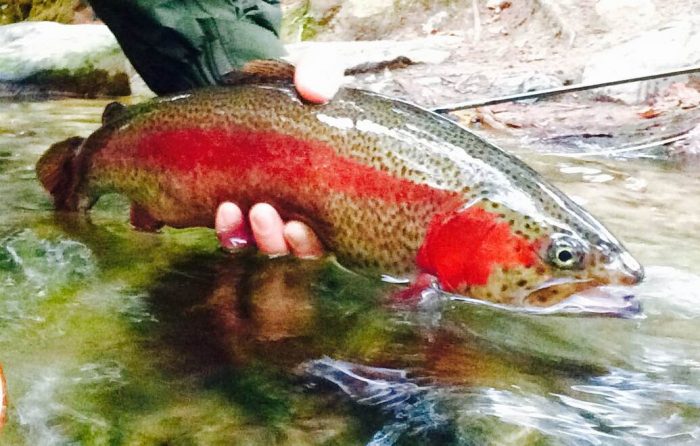 in the eddies behind large boulders, and the deeper pools in the turns and bends of a river for groups of holding trout. Here is the most recent trout stocking list from MassWildlife. MA Trout Stocking Report
If you are fishing for largemouth and smallmouth bass, you will need to be prepared to fish as slowly as you can. The water is cold, and fish's metabolisms have slowed. Many of the fish will have moved out off the shoreline and will be holding along deep water points and weed lines. To successfully target these lethargic fish try using a suspending rapala, silver buddy, slow-rolled spinnerbait, or jig-and-pig combo, all fished as slowly as possible. I always suggest starting in the NW corner of a lake because it receives the most sunlight, and warms up the quickest. Fishing a live bait rig while casting a lure is a great way to give the fish two options. I personally like to fish a shiner under a slip float in deep water while I cast toward the shore. This combination allows me to cover a wide section of water effectively, increasing my chances for a hook up.
If a guided wading fly fishing trip for trout or striped bass is something that interests you, please visit our website at earlyriseoutfitters.com or contact me at patrick@earlyriseoutfitters.com.
---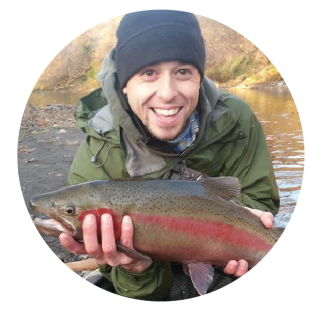 FORECAST BY: Patrick is a lifelong fisherman, who has been bitten by the fly fishing bug. He is also the co-founder/co-owner of Early Rise Outfitters, a year-round catch and release fly fishing guide service dedicated to providing enjoyable angling adventures throughout Massachusetts, with an emphasis on education and conservation.