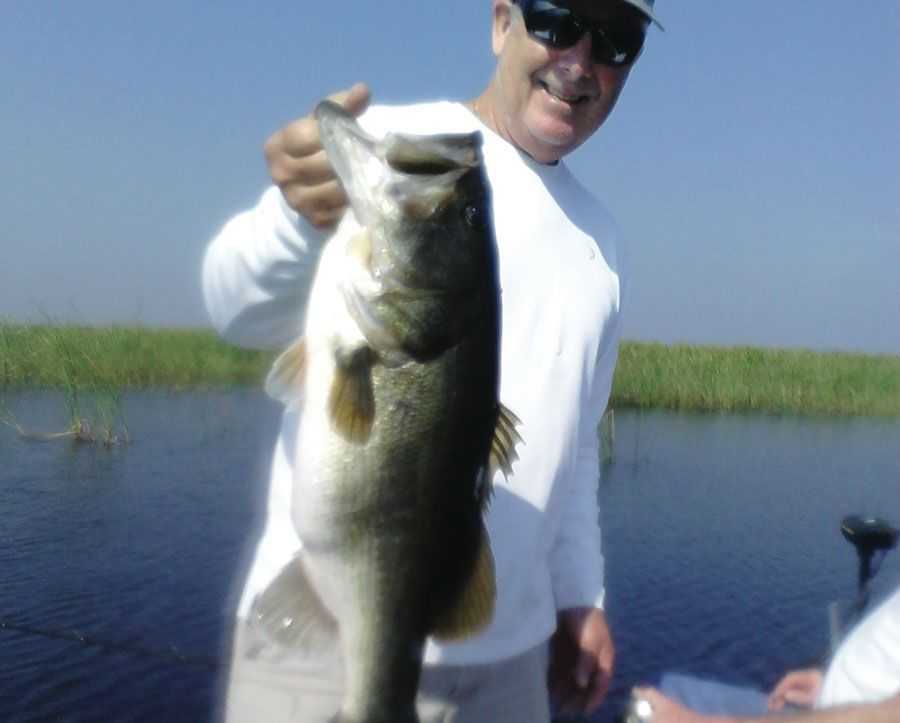 Lake Okeechobee has been producing some very good bass and pan fish fishing. Let's start with the bass fishing. Early morning spinner baits have been very good with catches up to 30 or 40 bass in the first couple of hours has been the norm, but once the sun comes up it's time to try a different tactic. Flipping hydrilla with a Gambler craw or pitching the bull reeds with a jig or a craw has been good after the sun rises. Top water action has been fair, Zoom Horny Toads and the Gambler Big Easy have produced tournament quality fish in the Kissimmee grass on Third Point and the east side of Kings Bar. Most of the action has moved to the outside edges of the reed line, but there are still a few fish inside spawning. Spend most of your time working the outside and move inside as the day get longer, just don't go too far inside. If you move 30 yards inside you've gone too far. Shiner action is very good in The Pass, Eagle Bay, and Tin House Cove. Fish the outside edges of the Kissimmee grass and take plenty of bait, it's not hard to go through 10 dozen shiners in a day of live bait fishing.
SPEND MOST OF YOUR TIME WORKING THE OUTSIDE AND MOVE INSIDE AS THE DAY GET LONGER, JUST DON'T GO TOO FAR INSIDE.
Bluegills and shell crackers are moving in and spawning around the full and new moons. Limits of pan fish have been reported from Indian Prairie to Taylor Creek. Crickets and red worms are your best bet for bluegills and shell crackers, or you can work a black with a lime green stripe beetle spin through the bed when you find them. It can be some of the most fun you have ever had fishing with a ultra-lite spinning outfit. Remember that the limit is 50 pan fish per person, that is a total of all pan fish species together, not 50 of each species. You can find bluegills on Kings Bar, Tin House Cove and the mouth of the Indian Prairie canal. Specks are still being caught on jigs in the grass on Grassy Island and are biting in the river in deeper water late afternoon and after dark. Minnows and grass shrimp work the best in the river.
Now I'm going to mention something that we don't talk about much out here, but for those of you that like catfish, you can catch a boat load in the river right now. They run in size from the little sharpies to up to 20 pounds. Try a piece of cut shrimp or cut mullet on the bottom in front of the lock in the river and you should have plenty of success.
Remember to stop by Garrards Bait and Tackle on the way to the lake, they can fulfill all your tackle needs for a successful day on the lake. Live or artificial bait they have it. GOOD FISHIN.