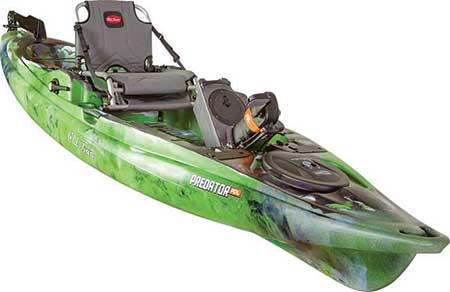 Prepare yourself for a totally new fishing experience. Old Town has taken boat control to new heights with forward and reverse via an efficient and easy-to-use propriety pedal-drive system.
It gets you to the spot fast, and keeps you on the spot without paddling. With forward, reverse and agile maneuverability, you'll experience precise boat control while your hands remain free to focus on fishing. The removable pedal drive installs in seconds and tips up instantly for shallow-water docking. The Predator PDL's specially-designed hull combines the perfect balance of smooth pedal stroke speed and stand-up stability.
The Old Town PDL pedals exactly like a bicycle, converting modest pedaling into maximum propulsion. A 10.3:1 gear ratio means that anglers can reach speeds up to 5.5 mph to reach fishing spots fast and efficiently. It also makes trolling through a range of user-adjustable speeds easy and effective.
The Predator PDL is infinitely customizable with rigging accessories from Cannon, Scotty, YakAttack, RAM and more.