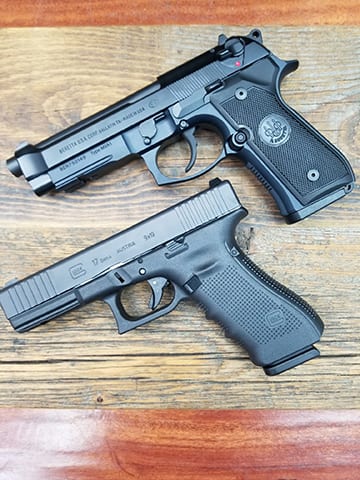 by Chuck Papp  Contributing Writer
The full size 9 mm pistol is one of the most useful for home security, recreational shooting, beginner and advanced training, and also personal carry.  It is popular among military and law enforcement here and abroad. The size and weight make it a perfect match for beginners and professionals. Its capacity of rounds, generally starting at 15 and going up to 20, make it a good choice, since reloading for most situations will not be required. The 9mm round is one of the cheapest calibers out there, so practice and training are cost effective.
The accuracy of the full size 9mm is astonishing. The pistol is capable of an accuracy level which the user can rarely take full advantage of.
I recommend two, the Beretta 92fs and the Glock 17. Both are used worldwide and easy to use. The shootabilty and reliability are unmatched. They are in use today and will be for a long time. The Beretta has served our Armed Forces since 1986, while the Glock has been in over 60 percent of police and security holsters. Both have remarkable sales to date. Out of the two I am a Beretta guy, but would use the Glock without hesitation.
As a home protection handgun, or one which can be used for anything else that may come your way, either one will fill the bill as one of the best handguns available. Using the description  "being the best" is a very bold statement, but they are.
Chuck Papp, Manager
Delray Shooting Center • (561) 265-0700