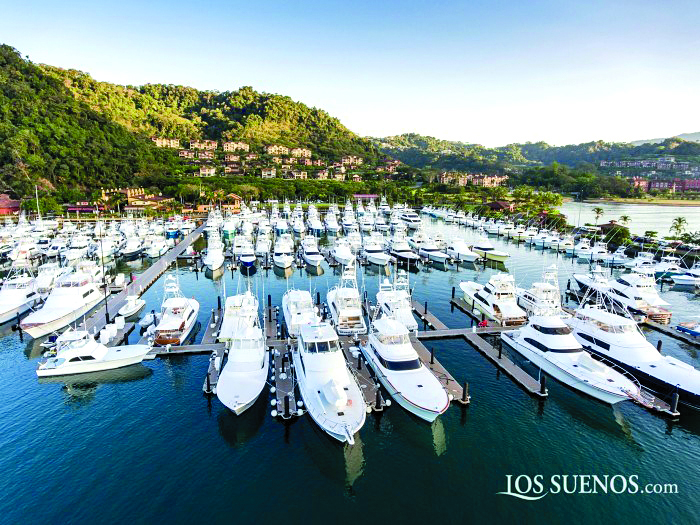 The 2018 Los Suenos Triple Crown is in the books
Leg three featured 43 boats. For the third leg, the Gunsmoke (3800 points) out dueled the Geaux Fly (3700), catching the winning sailfish with 20 minutes of fishing remaining. The Geaux Fly's second place finish was highlighted by a grandslam on day two– a black, two blues and a pair of sails. The Jaruco, the new 90' Jarrett Bay, rounded out the top three with 2800 points.
Leg Three also decided the Triple Crown winner for 2018. With all said and done, it was Tarheel (10,600 points) with Captain John Bayliss taking home top honors. The Agitator and Capt. Jon Duffie, 2016 and 2017 series champions, fell a sail and a marlin short of a third straight crown, with 10,100 points. Geaux Fly wins third place honors in the series with 10,000 even.  photos by Pepper Ailor
Offshore World Championship
Top Teams
1st   Torneio Marlin do Rio de Janeiro, Brazil, 3955.7 points
2nd  Torneio De Peixes De Bico, Brazil, 3300 points
3rd  Torneio De Peixe De Oceano, Brazil, 2700 points
4th  Torneio de Canavieiras, Brazil, 2658.9 points
5th  XXV Torneo De Pesca De Aturo Puerto Calero, Spain, 2649.6 points
Top Anglers
1st   Juan Cabrera Pena, XXV Torneo De Pesca De Aturo Puerto Calero (Spain), 2649.6 points
2nd  Pina, XIV Billfish Challenge (Angola), 1700 points
3rd  Miro Vrlja, Kup Grada Hvara (Croatia), 1700 points
4th  Nilo Cottini Filho, Torneio De Peixes De Bico (Brazil), 1500 points
5th  Matheus Assad, Torneio Marlin do Rio de Janeiro (Brazil), 1400 points
6th  Sam Worden, 2011 Offshore World Championship (U.S.A.), 1362.6 points
Top Boat / Captain
1st   Epic, Michael Alligood (Los Suenos, Costa Rica), 3555.7 points
2nd  Mako, Mike Springer (Los Suenos, Costa Rica), 3000 points
3rd   Super Fly, Rudy Arguedas (Los Suenos, Costa Rica), 2789.8 points
2018 Marina Pez Vela Open
Marina Pez Vela hosted the annual Marina Pez Vela Open with a record-setting field of 19 teams, which featured some intense competition between the top teams with the leaderboard changing every hour in a tight two day race.
During the two-day event, there were a total of 89 Pacific sailfish and eight blue marlin released, while 18 yellowfin tuna and 10 dorado were weighed, each with a minimum qualifying weight of 15 pounds. The results came down to the last few minutes of the tournament.
In the end, Miss Judy was the winner with 2,300 points, followed by the Fatherz and Sonz team fishing aboard Double Nickel with 2,200 points.
Billfish was third with 2,100 points. The largest game fish weighed was Brazilian angler Flabio Oliva's 61-pound dorado.
The Marina Pez Vela Open is a qualifying event for the Offshore World Championship so in addition to the prize money, trophy and awards, the team from Miss Judy has qualified for the 2019 Offshore World Championship with their last minute heroics.