FECOP Submits Criteria to License Greenstick Fishing in Costa Rica
Greenstick or "palo verde" as it is known in Costa Rica is not a new art of fishing. It has been used successfully for years in Japan and the United States in commercial and sport tuna fishing. Although not legal in Costa Rica, it has been used for several years in this country. The greenstick allows anglers to target tuna without almost any bycatch.
FECOP, Costa Rica's sportfishing advocacy and conservation group's Director of Science Moises Mug is a Masters of Science in Fisheries Biology and has been studying the tuna purse sein industry since 2001. His work convinced President Laura Chinchilla to sign a decree at the end of her term in 2013 that moved tuna purse sein operations 45 miles off the coast and protected a total of 120,000 square miles of ocean from tuna boats. Her predecessor, President Luis Guillermo Solis published the decree and it became law. Mug's science convinced the government this year to reduce tuna licenses issued from 43 to 13.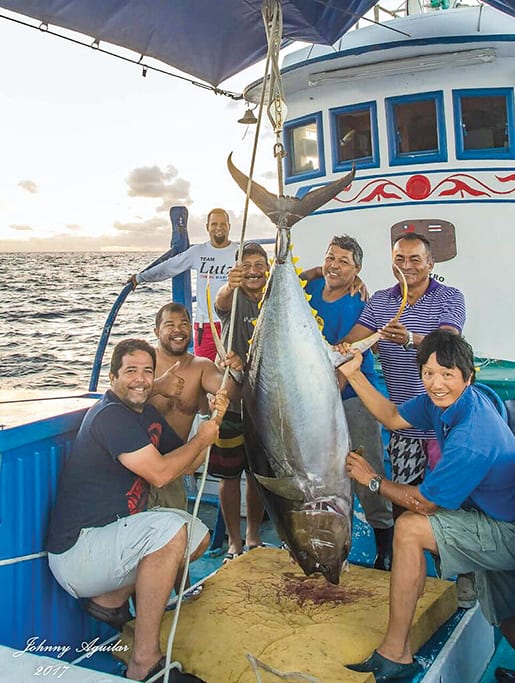 Since late 2016 he has headed up a greenstick study involving FECOP,  INCOPESCA,(the government agency in charge of fisheries), and INA, the technical learning institution that teaches different trades in Costa Rica including preparing students with the government requirements to work in commercial and sport fishing trades. FECOP has spent over $100,000 on equipment, and refurbishing and outfitting INA's floating classroom, the Solidaridad. The research team is testing the efficiency, amount of bycatch of greenstick as well as vertically dropped lines for tuna. The plan is that eventually INA will add a "Green Stick" course to their fishing trade agenda training Costa Ricans on the proper use of them.
In Costa Rica all new or changed fishing rules must be backed by technical support. Rarely do they accept studies not done in Costa Rican waters. So even though greenstick fishing has proved successful in other parts of the world as a sustainable art of fishing, Costa Rica has yet officially approved their use.
"Costa Rica will greatly benefit from a wide adoption of green stick for tuna fishing, not only for commercial fishing but for sportfishing as well. A proper adoption and promotion of green stick fishing not only will provide social, economic and environmental benefits but will set an example for sustainable fisheries in Costa Rica", said Mug.
Once this project is in the hands of the board of directors of INCOPESCA, a vote is expected soon. With the demand for sustainable caught tuna on the International market it is expected tuna exporters will also support this license.
Sportfishing in the Olympics?
FECOP to Represent Costa Rica in Panamerican Sportfishing Delegation
Sportfishing groups from the United States, Mexico and several Latin American countries met in Cancun, Mexico in late November for the inaugural assembly of the Panamerican Sportfishing Delegation. The purpose of the group is to promote sportfishing as a competitive sport and have a common front of on fisheries conservation. Goals are to have sportfishing placed in the Pan American Games and with cooperation from European countries, the long-term goal is to make sportfishing an Olympic sport. With golf, table tennis, and handball already Olympic sports and skateboarding, surfing, sports climbing, and mixed gender competition introduced to the 2020 Games, it is time to introduce sportfishing to the event.
According to the Confederation International of Sport Fishing, (CIPS) founded in 1952 in Rome Italy with 50 million members from 77 countries, the America's are not yet sufficiently organized for sport fishing to be considered for the Olympics. The America's include all countries from North, Central and South America.
The Federacion Costarricense de Pesca Turistica (FECOP) a Costa Rica non-profit which represents 8 Sportfishing Associations as well as the National Fishing Club and the Club Amateur de Pesca was asked to represent Costa Rica in the Panamerican delegation.
"It is very exciting to be chosen to represent Costa Rica," said Carlos Cavero, President of FECOP. "We now have an open line of communication with other countries and will join the Americas in a single agency that represent sport fishing interests. Costa Rica has so much to offer the sport fishing world and has many anglers with the skills to compete on an International level."
Four Panamerican tournaments are scheduled in 2018 representing different types of sport fish. A largemouth bass event will be held on Lake Okeechobee, Florida, snook in Tabasco, Mexico, and an offshore tournament at Isle Mujeres, Mexico. Costa Rica and FECOP will host the 2018 Panamerican Assembly next November followed by a 3-day International roosterfish tournament.
Costa Rica is world famous for its Pacific side billfish action. Marina Pez Vela and Los Suenos host several world class events. FECOP decided to pick a species accessible to many that offers anglers without big game skills a chance to do well and highlight the country's fishery at the same time. Two species came to mind for a catch and release style tournament. All fish released will be marked with a spaghetti tag for scientific study. Roosterfish on the Pacific and tarpon on the Caribbean side of the country. FECOP decided to get a roosterfish tournament under its belt and add an International tarpon tournament in 2019.
The Hero Shot . . . A Call for Help!
For the last 9 years it has been against the law in Costa Rica to remove a billfish from the water to take a photo. Everyone wants to go home with a picture of their prized fish for bragging rights. A fine of 2 million colones, (around $3500.00) can be imposed if you do in Costa Rica. Science has shown the survival rate is lower on fish dragged over the gunnel and taken out of the water. Sadly, if you Google "sailfish Costa Rica" you will come up with site after site with photos of sailfish dragged over the gunnel for the "hero shot"
Costa Rica's history of poorly enforcing fishing regulations works to the advantage of sport fishermen this time but that does not make it right. I have yet to know anyone prosecuted for breaking this rule although there are examples plastered all over the internet of billfish out of the water. There was a time when charter operations felt they needed lots of fish nailed to a board at the dock to attract charters.
I have always thought there is a lot more to charter fishing than driving a boat and catching fish. A good charter operator is an Entertainer, Educator, and Communicator. What a horrible day on the water if fishing is slow and your crew hardly talks to you. A good and brief orientation before you leave the dock explaining to your customers, the position of safety equipment, types of fishing to be done that day and how, as well educating them on the law of removing fish from the water will go a long way in being considered a true professional with a concern in safe-guarding your catch and release fishery.
Your customers can still get a great photo at the side of the boat if you plan ahead. Tell them to have their camera ready and if someone is going to shoot a photo for them with their camera to make sure they know how to use it first. With the technology in cameras always changing it is easy to get great action shots these days.