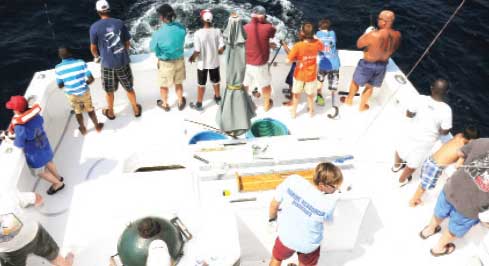 By Sarah De Lazzer
[dropcap]C[/dropcap]ombine four charter boats, at least four hundred gallons of diesel fuel, eight hundred pounds of ice, many boxes of bait, snacks, drinks, four captains, four mates, 20 volunteer deck hands, and at least fifty hamburger lunches with almost forty kids all battling pediatric cancer and you have the fixings of a great day of fun.
This September the Orange Beach Fishing Association, Zeke's Marina, and Wolf Bay Lodge, teamed up once again to charter kids from Camp Rap- A –Hope in Mobile for a fishing trip. The tradition started over 20 years ago with Captain Maurice (Fitz) Fitzsimmons and what was then "Camp Smile A Mile." Fitzsimmons said he "promised these kids with cancer would always have a trip as long as he had a fishing boat and a license."
Iris Ethridge, OBFA treasurer, said that the captains and boats rotate every year; "they fight over" who gets to go. This year the Aqua Star, Annie Girl, Summer Breeze II, and Wish Bone waited at the docks on one of the first cooler mornings of the fall. Kids filtered in, some being driven by their parents from Pensacola, some from as far as New Orleans and Mobile arriving on a big charter bus.
Alabama Department of Conservation and Natural Resources District Conservation Enforcement Officer Captain E.C. "Bo" Willis and Kevin Anson, ADCNR Chief Biologist conducted a survey on the trip making it possible for some of the out of season red snapper caught to be kept. Willis said that the captains were asked to take the charter boats to both private and public reefs where they would tag and measure snapper caught by location. Anson said they would also be removing ear bones called otoliths from the fish to determine age.
A lot rides on finding the fish.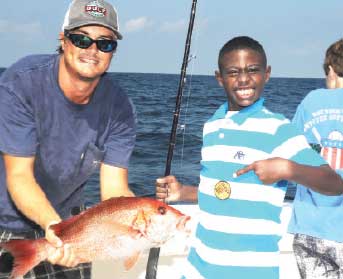 With only teen-age boys on the Aquastar, Captain Nick Knoepflein recognized competition to bring in a big fish ran high. Knoepflein has been working on charter boats for nine years. This was his first time volunteering for the Camp Rap-A-Hope trip. "It's good to give a little back," he said as he steered the charter boat to the first reef.
Jordan, Ryan, Joseph, Bradley, Sean, Wayne, Reese and Tucker all grabbed a spot at the rail of the boat. As quick as deck hands baited hooks, the kids dropped lines. Within minutes Bradley shouted he had one on and first mate Jesse Baker helped pull in a robust snapper. The boys shouted and raised high fives with excitement. Spot after spot the boys pulled in snapper until the last hole where Reese managed to hook a thirty pound cobia. Even though Reese pulled the fish in, all the boys shared in the thrill of the catch as they posed with the fish.
Camp Rap-A-Hope Assistant Director Roz Dorsett, said watching the kids "support each other" is one of the best things about her job. Camp Rap-A-Hope Director Melissa McNichol said this year the camp had the "highest number ever of campers and the "most ever" on the fishing trip, adding that it takes the entire year and two fundraisers to provide one week of camp for the kids up to age 18, all in various stages of pediatric cancer.
After a four hour trip on water, the charter boats pulled into the marina and forty hungry kids and their camp counselors made their way to Wolf Bay Lodge for hamburgers and fries. The volunteer mates, crews and Alabama DCNR officers cleaned the fish which will be served on Family Day at the camp November 10. Every child took back a goodie bag with a snapper fish print from Printing Pro's in Orange Beach, T-Shirts and snacks from the OBFA, and a smile from a day on the water.