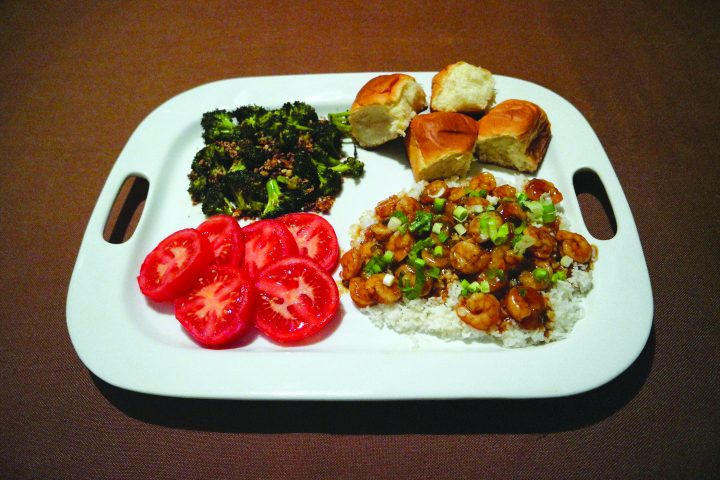 This dish was a little spicy and very flavorful. A hint; do the prep work ahead of time so you can devote your time to the cooking which does not take much time at all. This sauce would also be very good on chicken or pork.
• Nonstick aluminum foil
• ¾ pound shrimp
• 1 orange, for juice
• 1 tablespoon soy sauce
• 2 tablespoons rice vinegar
• 4 tablespoons orange marmalade
• 1 teaspoon Siracha sauce
• ¼ teaspoon lightly dried (or fresh) ginger finely grated. I used fresh.
• ½ cup per-sliced green onions, divided.
• 1 cup Basmati rice
Preheat oven to 425 degrees. Line baking sheet with foil. Arrange shrimp in a single layer on baking sheet. Salt and pepper shrimp and mix with a very small amount of coconut oil to coat. Cook shrimp until almost done about 5 minutes.
Squeeze orange for juice (½ cup). Combine in medium saucepan: orange juice, soy sauce, rice vinegar, marmalade, sriracha sauce, ginger, and ¼ cup green onions: bring to boil on medium-high. Cook 1 minute, remove pan from heat. Pour sauce into large bowl, stir in remaining ¼ cup green onions.
Cook rice according to package instructions. Add shrimp to sauce and toss to coat. Serve with rice.