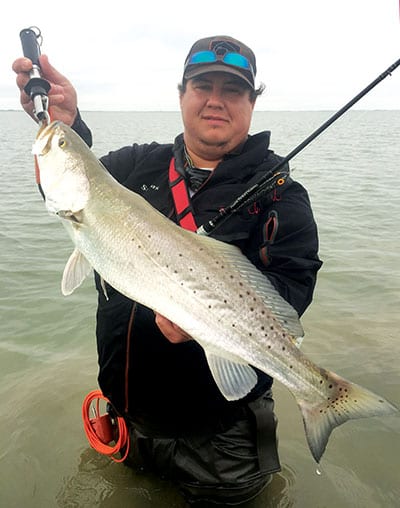 By: CAM Special Correspondent Tobin Strickland
December of 2016 we had continued high tides and extremely warm temperatures until almost the end of January. The huge rain fall we received with Harvey and an early strong front in late October and early November 2017 has pushed the fall shrimp forage into the bays early this year.
With that said, we'll still have to anticipate where the fish will be in each bay systems depending on how the season progresses. This years exaggerated rainfalls kicked off the flounder action a little early, we might expect the major peak of the run to happen in early December this year similar to last year (by Dec. 15th it was over last year with only a handful of quality fish caught after that time). Fishing under the birds this month should result in better quality trout mixed with reds in both Matagorda and Galveston Bay Systems. Early 'bird' action usually results in 'dinks' but November has already had good catches of solid trout and redfish in Matagorda with Capt Trey Prye and upper Galveston with a handful of guides. Hunt these groups of fish over oyster reefs or old oyster reef substrate and you'll find better numbers of quality fish (something Galveston's Capt Steve Hillman always suggested and for good reason).
Lastly, don't overlook big trout shallow in December. Many times these early big fish can and will take topwaters and it can be some of the best topwater action of the year.
SunCoast Marine Works Field Staff Writer – Tobin Strickland created TroutSupport.com for speckled trout and redfish anglers.
Tobin created TroutSupport.com – for Trout and Redfish Anglers. Check out the newest weedless walker for catching Big Trout, Reds, and flounder in Sea Grass and Shallow Oyster | www.troutsupport.com