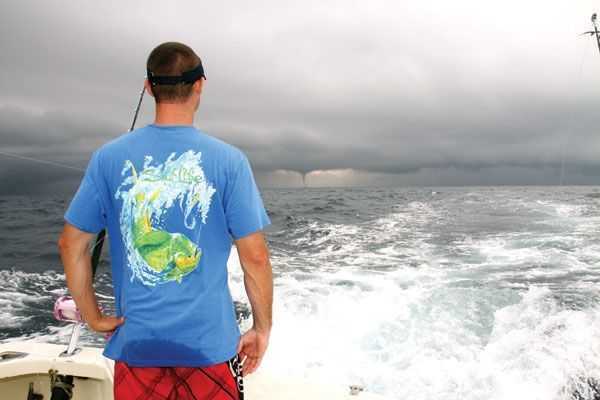 One of the most enjoyable experiences we have in our industry is helping our clients outfit or purchase their boat for offshore waters. Sharing the optimism of new and endless fishing and boating opportunities is special to us and we take a lot of pride in our customer's success stories and growth. A lot of people who move to a coastal location or have just purchased their first vessel may feel intimidated as to what equipment is mandated by law, needed for success and what may be simply a waste of money and time. With modern marine technology being what it is and the endless fishing rods, reels and tackle on the market, minimizing your learning curve is an asset to the offshore fishing rookie.
When working with a new boater in prioritizing equipment, safety gear and knowledge always trump the wants. With that in mind, here are a few tips to get a new offshore boater started.
First and foremost, take a boater's education course. Our school offers a lot of fishing curriculum, but the Coast Guard Auxiliary or your local Power Squadron should be the first call you make after signing the paperwork on your new boat. Nothing trumps education and experience on the water. Enroll in a structured course and take copious notes. Commit what you learn to memory and put it to use on the water. Take a more experienced boater along with you on your first few ventures. Offer to buy them lunch at a waterfront restaurant and you will be amazed at what knowledge they will share with you. Boaters enjoy helping other boaters—take advantage of it.
Spend more money on safety gear and buy more than the minimum gear required; with lifejackets and flares being good examples of such. If you plan on spending a lot of time in open waters, invest in good Type I lifejackets. These are designed for rougher waters, have more built in floatation and will turn an unconscious person over so they can breathe. Flares should also be of the proper specifications for where you are boating. Don't buy cheap hand-held flares for near coastal waters and expect a good response when you fire them up twenty-five miles offshore.
A quality GPS and fish finder, VHF radio and some sort of emergency locator are necessary. Never have I heard a fisherman complain that the screen size on his GPS is too big or his VHF radio transmitted too far. Get the most your budget will allow to avoid regrets and wasted money down the road. A Personal Locator Beacon (P.L.B.) such as a "SPOT" messenger is a great alternative to an expensive and bulky E.P.I.R.B. and is better than nothing. What I like about my SPOT is that my family and friends can track my adventures and always know where I am located in case of an emergency.
Once the required safety gear and electronics are narrowed down, I start looking at things like redundant bilge pumps and ground tackle. There is no worse feeling that seeing water sloshing around in the bilge and wondering why the auto-float switch hasn't kicked on yet. Even more disturbing is hitting the manual bilge pump and nothing happens. A secondary bilge pump, wired to a separate battery is a must, as is a manual bilge pump.
As you may already know, the majority of fishing in the Gulf of Mexico is bottom fishing for bottom dwellers. I see a lot of guys make the mistake of using the anchor, chain and line that came with their vessel and wonder why the boat keeps drifting off the mark. Properly match up the correct size anchor for your boat and have more than enough chain and as much line as you can fit in the space provided. One thing people forget is that an anchor is also a safety item. Imagine sitting off the southwest Florida coast with a good east wind and having an engine failure. The wind will push you out towards deeper water, making a tow or rescue more difficult unless your anchor will hold you firmly in a stationary position.
A ditch bag is also great peace of mind should something catastrophic happen and you have to go in the drink. Having a handheld GPS and VHF radio, along with a blow up raft and bottled waters will greatly up your survival odds.
Moving away from all of the serious talk, fishing tackle is the next area you should invest in with quality and not necessarily quantity the objective. Having one or two good rod and reel combos that can handle multiple tasks is a better value than a cheap setup for every species of fish that swims. Shimano TLD 25's and Penn 330 GTI's with a compatible 7' Star rod rated for 30 lb class line will handle all grouper, cobia, kingfish and shark needs, while a Shimano Baitrunner or Penn Battle spinning reels on matching rods will handle all casting chores and snapper fishing.
An assortment of circle hooks ranging in size from 1/0 to 8/0 and leader from 20 lb to 60 lb will suffice in most scenarios. Sinkers, barrel swivels, a few lures and a good pair of pliers/cutters will round out the tackle box. Venting tools, de-hookers and any other mandated equipment should also be obtained. One other area that I see a lot of wasted money is in fillet knives. Again, here is where you get what you pay for, but don't forego one more life jacket over a high-end knife. This is where we are getting more into the wants than the needs.
The best tool you can have on a boat is an educated, experienced skipper at the helm. Don't leave common sense at the dock and if it doesn't feel right don't do it. Pay attention to your surroundings, other boats and the weather. One thing that scares me is the boater that knows it all, has done it before and is experienced. The best means to a safe experience on the water is a good attitude and an open mind.
[easy-social-share]