By Rick Graham • Dream On Sportfishing
Greetings anglers!
The local Green-Season fishery has been great for 2018, the best I've experienced  November and December get drier and hotter and mark a change in the local catch for our tourism high season.
In November and December we see a bit of a slow-down in sailfish, wahoo and dorado beginning in December as they migrate. During this time we have strong catches in the snapper, roosterfish and the other Pelagic species fishery. Blue marlin have been plentiful up to this point of the year and we have also seen some blacks and striped. This should remain steady through November and December before they too migrate away for a few months.
There's about a 70% chance of El Nino this year. The impacts may be significant at regional levels. El Nino tends to lead to excessive rainfall on Costa Rica's Caribbean Coast while where we are on the Northern Pacific Coast remains hot and dry. With increased water temperature we will likely have to head out a little deeper for the billfish.
Also looking towards November/December 2018, we should see the roosterfish pick up from their usual October lull. 2018 has been an awesome rooster-fishery with plenty being caught over 75 pounds!
These are usually the final months of our local yellowfin tuna fishery as well but November has produced some of the biggest yellowfin in past years. And, last year we never did see a slow down of the yellowfin fishery.  We've had some big days for tuna this year and boated several in the 65 pound to 90 pound range.
At Dream On Sport Fishing we're pleased to announce the addition of another 35' Cabo Express. We have made her our lead vessel and have flagged her "Dream On". Our Blackfin is being re-flagged "Loretta" and is undergoing some reconditioning in preparation for the high season. Should be a great year.
This year Dream On competed in the Presidential Challenge Flamingo Fishing Rodeo. I caught the tournament's Heaviest Dorado but the big cheers go to Merin Pardoe. She cleaned up and you should have seen the looks on some of the fellas faces! She won "Top Lady Angler", "Top Offshore Angler" and "Top Angler Overall"! Way to go Merin! On day 2 Merin caught 7 sailfish and 2 qualifying dorado having the biggest day of the tournament. Huge congratulation to my entire team . . . Capt. Angel Garcia, 1st Mate (Super) Mario Marin, Top Angler Merin Pardoe, Adam Bennett and Ari Salas Bennett. #DreamTeam
You can stay on top of what's happening in the Northern Pacific region by following our Dream On Fan Page on Facebook (https://www.facebook.com/DreamOnSportFishing) You'll see tons of cool pictures posted by us and our guests as well.
Until next time Anglers, Tight Lines & Pura Vida!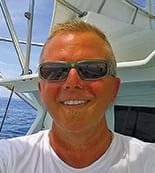 Rick Graham represents Dream On Sport Fishing in Playas del Coco.  After a lifetime of fishing as a hobbyist Rick decided one day to live his dream. He sold everything, quit his job and bought a sport fishing business in Costa Rica. Rick has a full time crew with a combined 60+ years experience fishing these local waters. He also represents several other top notch local operators through his website www.DreamOnSportFishing.com. Dream On ranks #1 in area boats by TripAdvisor and Rick personally responds to every inquiry received. Contact Rick at dreamonsportfishing@gmail.com