By Rick Graham • Dream On Sportfishing
Greetings Anglers! Its been an incredible green season and we're really looking forward to August, September and October. August is arguably the best month of the year in these waters with everything being caught in abundance. There's also great deals on airfares and its a quiet month for charters . . . drop us a line for some last minute deals!
At the time of writing this we are seeing some BIG mahi mahi (Dolphin Fish) and that will continue through the rest of the year. The roosterfish have been large and beautiful, with most of the action for them being just north of here. We generally see a bit of a slow down for them in October but for now they're big, strong and plentiful.
The excellent fisheries we've been seeing for sailfish, blue marlin, striped marlin and yellowfin tuna should continue through the next three months. Throughout June and into July the billfish have been surprisingly close in, with many being caught within a couple miles from shore. The wahoo bite has started slow so I'm thinking we should be hooking up with some wahoo throughout the fall months.
At Dream On we've been busy adding another Cabo Express 35 to the fleet. We shipped a beautiful one from Florida, through the canal to Costa Rica and by the time you're reading this she'll be here and operating.
The Green Season here near the Northern Pacific Coast is a spectacular time of year to visit. Incredible fishing, beautiful scenery, milder temperatures and deals galore! If you get a chance to hop on a plane to take in a few days of fishing you won't regret it! Until next time anglers . . . Pura Vida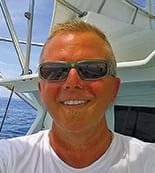 Rick Graham represents Dream On Sport Fishing in Playas del Coco.  After a lifetime of fishing as a hobbyist Rick decided one day to live his dream. He sold everything, quit his job and bought a sport fishing business in Costa Rica. Rick has a full time crew with a combined 60+ years experience fishing these local waters. He also represents several other top notch local operators through his website www.DreamOnSportFishing.com. Dream On ranks #1 in area boats by TripAdvisor and Rick personally responds to every inquiry received. Contact Rick at dreamonsportfishing@gmail.com