By Rick Graham • Dream On Sportfishing
Greetings Anglers! The past couple of months have given us an incredible mahi mahi (dorado) fishery, which is beginning to wane as I write this. We also saw huge numbers of yellowfin tuna for a much longer time than usual. They weren't lunkers . . . averaging  about 25 pounds, but they were plentiful, and with excellent quality meat.
Our rainy season (Green Season) has now passed, and as we head into our summer, the windy season starts. Proper selection of the boat you are going to charter becomes very important this time of year. Choosing the right vessel is key to having an enjoyable, safe and successful charter. Dream On, for example, is a 10m (33'), 17,000 pound BlackFin. Legendary for the way they handle the big water. No lightweight materials used in the hull construction and an aggressively flared hull help her cut through big water safely and with ease.
We also change up our gear somewhat this time of year. We use the biggest, splashy-flashy teasers to help grab the attention of the big billfish this time of year . . . there is a lot going on from the fish's perspective, looking up at the choppy water, so you need to grab their attention.
Traditionally February sees increasing numbers of dorado and sailfish, followed by marlin, tuna and wahoo in March. The roosterfish and snapper are strong throughout the year in our neck of the woods.
Until next time anglers . . . tight lines & Pura Vida!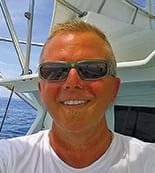 Rick Graham represents Dream On Sport Fishing in Playas del Coco.  After a lifetime of fishing as a hobbyist Rick decided one day to live his dream. He sold everything, quit his job and bought a sport fishing business in Costa Rica. Rick has a full time crew with a combined 60+ years experience fishing these local waters. He also represents several other top notch local operators through his website www.DreamOnSportFishing.com. Dream On ranks #1 in area boats by TripAdvisor and Rick personally responds to every inquiry received. Contact Rick at dreamonsportfishing@gmail.com