By Rick Graham • Dream On Sportfishing
Greetings Anglers! We've had a great high season for tourism and fishing, thanks to all of you who went out on the water with us and for all of the great reviews left on tripadvisor.
Looking towards April and May we expect the winds to start slowing down and the temperatures to drop. These are the months when we see a large influx of the migratory species leading up to our prime fishing months in these waters.
We have already been catching some big striped marlin and some nice blues. The sailfish have been quiet, but in the last couple weeks we've noticed a dramatic increase in the action
The dorado offshore have been beautiful, with an average size of about forty pounds with some sixty-plus as well. The roosterfish are picking up and they've been big. We released several last year over eighty pounds and that could mean there is a world record waiting for you!
All in all, what we're seeing now is indicating we could be in for a great season which peaks June-July-August.
Until next time anglers . . . tight lines & Pura Vida!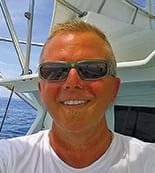 Rick Graham represents Dream On Sport Fishing in Playas del Coco.  After a lifetime of fishing as a hobbyist Rick decided one day to live his dream. He sold everything, quit his job and bought a sport fishing business in Costa Rica. Rick has a full time crew with a combined 60+ years experience fishing these local waters. He also represents several other top notch local operators through his website www.DreamOnSportFishing.com. Dream On ranks #1 in area boats by TripAdvisor and Rick personally responds to every inquiry received. Contact Rick at dreamonsportfishing@gmail.com