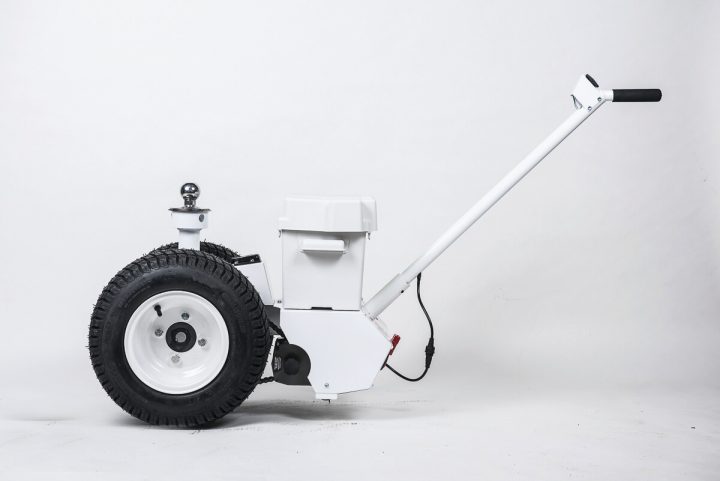 Even a small, lightweight boat trailer can be tricky to maneuver in tight spots. Parkit360's Force 5K power dolly is perfect for these situations. It provides the muscle to effortlessly move up to 5,000 pounds around corners and obstacles and is compact enough to fit in the trunk of a small sedan.
The Force 5K is simple to operate. It connects quickly and easily to the trailer using it's included 1–7/8″, 2″, 2–5/16″ or 50mm ball, and Stablelock technology. A thumb toggle on the handle provides forward and reverse. With the upgraded SD B2 and B3 models, it'll even apply electric and surge brakes in the neutral position. And at only 67 lbs., it's lighter than a lawnmower.
Because the operator is closer to the boat and looking straight at it, clearing tight spots is no longer a nerve-wracking experience. And with the Force 5K, there is no concern over jackknifing. The ability to make acute angles is what makes it so maneuverable.
The Force 5K's 4-inch-wide tires provide plenty of traction to handle a broad range of surfaces. It's powered by a robust 1.5 hp Bosch electric motor and conventional 12V deep cell battery. It has a built-in monitor and charger.
The Force 5K from Parkit360 comes with a 2-year warranty. Its cost is $1,096, but online pricing is commonly available. See www.parkit360.com for more information.
Contact Parkit360 at 130-502 Industrial Ave., Carleton Place, ON, Canada K7C 3T2. Toll-free 888-926-5517. sales@parkit360.com.