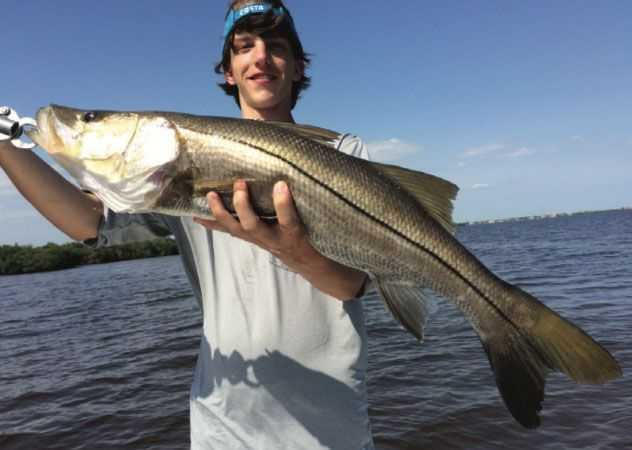 Summertime in southwest Florida has finally arrived. This has to be one of the best times of the year to experience why we are considered to have some of the greatest fishing in North America. For those of us who live here, this time of the year cannot come fast enough. The longer days of summer have once again filled in our shallow flats with lush turtle grass swaying in the gentle tidal flow. Large schools of Scaled Sardines glisten in the sun along the edges of the shoals that meet with the grass flats. In the deeper waters of the harbor, large schools of Threadfin Herring are making their entrance. Many species of game fish depend on these lush grass flats and large schools of bait. When I think of fishing in Charlotte Harbor in the month of May, I can't hide that great big smile from my face.
Snook fishing this year has been some of the best I have seen for several years. I have been catching good numbers of fish in the 10-15lb range with some over 15lbs. Live bait has been the most productive. Mangrove points and troughs on the flats where there is good tide flow will hold good numbers of feeding Snook. Fluorocarbon leader 30-40 # is highly recommended due to the clear water.
Boca Grande Pass will show why it is the Tarpon capital of the world. Huge schools of Tarpon will begin to move into the Pass this month. There will also be a great number of schools on the beaches north and south of Boca Grande Pass. Silver dollar size Blue Crabs and Threadfin Herring are excellent baits for fishing along the beaches. Spinning gear spooled with 30# main line and 80# fluorocarbon leader with a 6-8/0 circle hook will get the job done on the beach. Please remember while Tarpon fishing to be considerate of other anglers. Tarpon fight long and hard and many times the angler has to chase their Silver King, so be kind and stay clear of their lines for you may be the next one to hook up into one of these giants.
Trout have been very active along the sand bars on the lower tides and moving on to the shallow flats as the tide rises. Some of my biggest Trout have been in 2-3ft of water on the flats with broken bottom (grass sand mixture). Flat lining sardines has been very productive. Use your trolling motor to work along the edges of sand bars to locate fish. While fishing the flats drifting is a very effective way to locate fish.
Summertime is without a doubt my favorite time to fish the waters of southwest Florida. The Snook and Tarpon fishing will be some of the best for months to come. While fishing the flats don't be surprised if you see some Mangrove Snapper.
Your best day of fishing is just an e-mail or phone call away. All charters are custom to fit you and your party's fishing needs.