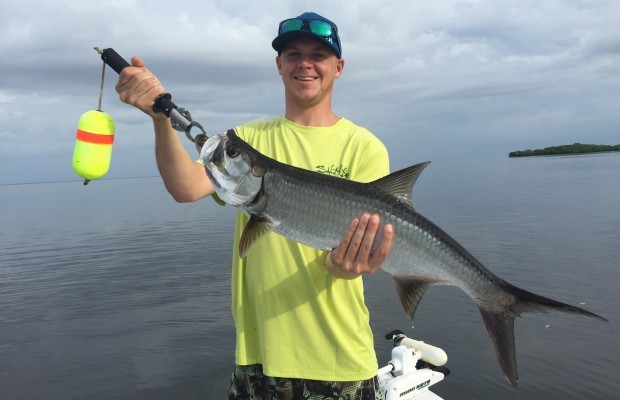 Water temperatures have had the Harbor boiling these last few weeks. Luckily the afternoon rains have helped to lower the temperatures. And the fishing has really turned on. Don't be fooled by the dark colored water. This is due to the two rivers that naturally flow into Charlotte harbor, the Peace River and the Myakka River.
The ladyfish have begun to school up in 5-7 feet of water. The great thing about this is not so much the ladyfish, but what feeds on them. This time of year Tarpon zero-in on the schools of these oily guys. If you locate a feeding frenzy of lady's, I recommend hanging around because there is a good chance you will see something amazing take place. I recommend using a 7.5 to 8- foot heavy action rod, spooled with 40-50# line and a 8-9 0/0 hook. Flat line your bait in and around the frenzy and be ready.
Snook on the flats has been doing very well in the earlier parts of the day. Try to locate areas that have good moving water. On the lower tides the potholes have been holding good numbers of fish. As the tide rises fish closer to the mangroves. Flat lined live Pilchards have been the bait of choice.
The Redfish bite has been picking up on the higher tides. Look for shorelines with over hanging mangroves. Live bait has been doing well. If you are a patient fisherman cut bait has been getting very good action as well. With all the schools of Ladyfish around cut bait has been easy to get.
On a recent charter I had a group that wanted to take a few Seatrout for the dinner table. After a morning of Tarpon fishing, and an excellent Snook bite we moved to a bar. We sat in one spot for an hour catching Trout on every cast. So if you're looking for Trout I would focus on deeper water just outside the bars. Look for broken up bottom, a mixture of sand and grass.
One of my favorite summer fish is Mangrove Snapper. These little guys put up a good fight, and are also great on the table. This time of year you can catch these guys all over. On the lower water the pot holes on the flats and outside of bars will be holding a lot of fish. On the higher water deeper mangrove shorelines and deeper points are great places to locate fish. A wide variety of baits work great for these guys. Anything from cut to smaller live baits. A smaller hook and a lighter leader also helps.
 
If you would like to experience some of Charlotte Harbor's finest fishing give us a call or send an email. All of our charters are private and customized to fit you and your party's needs.