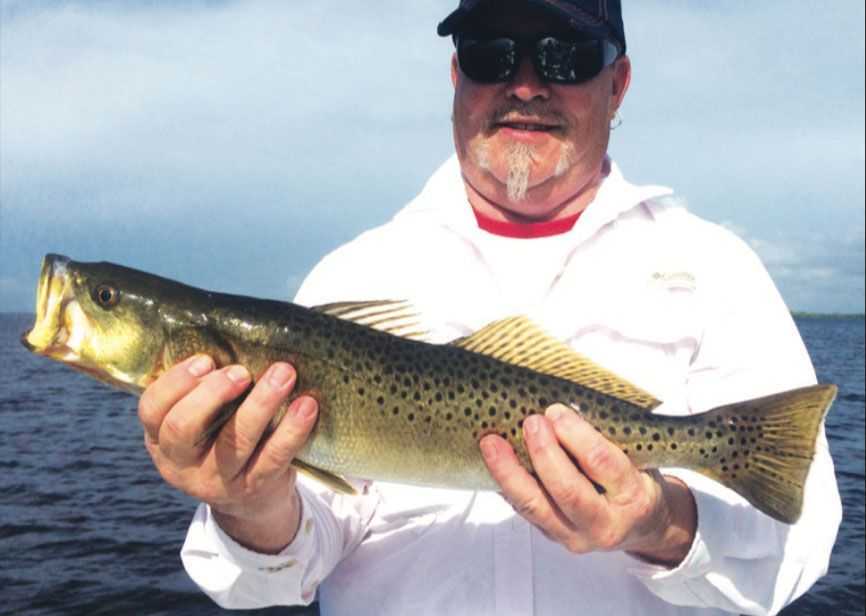 Well I guess it was bound to happen. It was going to get colder at some point. Don't worry it's not all that bad, we still have great fishing, you just need to change up your approach. When the water temperatures drop in to the mid 60's in Charlotte Harbor and the Peace River, we just fish a little deeper. Normally water cools from the surface down, so fish tend to search out the deeper holes when it cools down. Sometimes locating these fish can take some time. I recommend the run and gun method. Fish as many holes as you can, if you're not getting the hits keep moving. Normally when you do locate fish, you're going to find good numbers.
During the cooler months Trout fishing can be some of the best of the year. As water temperatures drop schools of Trout seek out deeper warmer water. I locate a lot of fish in residential canals. These man-made canals can be magnets for fish seeking deep water. Not all these canals have the depth, so you will have to put in some work. Creeks and rivers will also be holding good numbers of Trout this time of year. My bait of choice is shrimp fished with a jig head. The weight of the jig varies on depth and current flow. Normally a 1/8oz will get it done. If you have a strong current you might have to go to a 1/4oz. Also many times I will fish under a popping cork.
Redfish in the Peace River has been good. Most of the fish have been under the legal size of 18 inches.
We have been getting some slot fish in the mid-twenties. While on a recent charter we got a real big surprise. One of my clients unknowingly snagged about an eight foot gator. They were
visiting from the U.K. so they thought that was great. We caught 18-20 Redfish on a half day charter, but the gator was all they talked about. Shrimp has also been the bait of choice for the Reds in the cooler water. I prefer getting the bait down to the bottom during the cooler months.
The cooler weather has got the Sheepshead schooling up. Look around docks for these bait thieves. I look for the oldest crustiest looking docks I can find. If you can get some fiddler crabs for bait, you will increase your chances. If not shrimp also work very well. A 1/0 circle hook and enough lead to hold bottom is the trick. The bigger fish are a lot easier to hook, the little guys will steal you blind.
If you would like to experience some of Charlotte Harbor's finest fishing, give me a call or send me an email. All of our trips are private and customized to fit you and your party's needs.