It is hard to complain about the colder than normal winter we are having here in south-west Florida, when our neighbors to the north have been getting their tails kicked. Well March is here and warmer weather should be following. I have had to wear my rain gear more this year than normal. Not for the rain, but more for the mornings that have been in the high 40's. Enough about the past lets focus on the future.
With the warming weather the flats fishing is going to come alive. The longer days will help fill in the grass beds that our fish depend on for cover and places to find forage.
The Trout fishing has been very good all winter. With the warming weather that will make for a great fishery to get even better. Look for fish to start moving from deeper creeks and residential canals to the shallower grass flats. On the lower tides, outside sandbars will be holding excellent numbers of fish. As the tide rises these fish will move onto the flats. I like to focus on flats that have a broken up bottom and grass with sand holes mixed in. If you can find live pilchards they will be the bait of choice. If you are unable to locate them, live Shrimp fished under a popping cork will also work very well. For you artificial guys this is a great time to catch those big gator Trout on top water, first light will get the best bite.
Snook fishing is also high on my list during March. The warming water has Snook on the prowl. For the last couple months these guys have been dormant in the deeper water trying to stay warm. As the water warms Snook will become more active. River mouths and deeper canals will be holding good numbers of fish. The flats close to these areas will begin to produce also. The flats that have deep water access will be holding the bigger fish just in case that late cold front comes in. Any kind of live bait such as pilchards, herring, pinfish and also large shrimp will get these guys attention.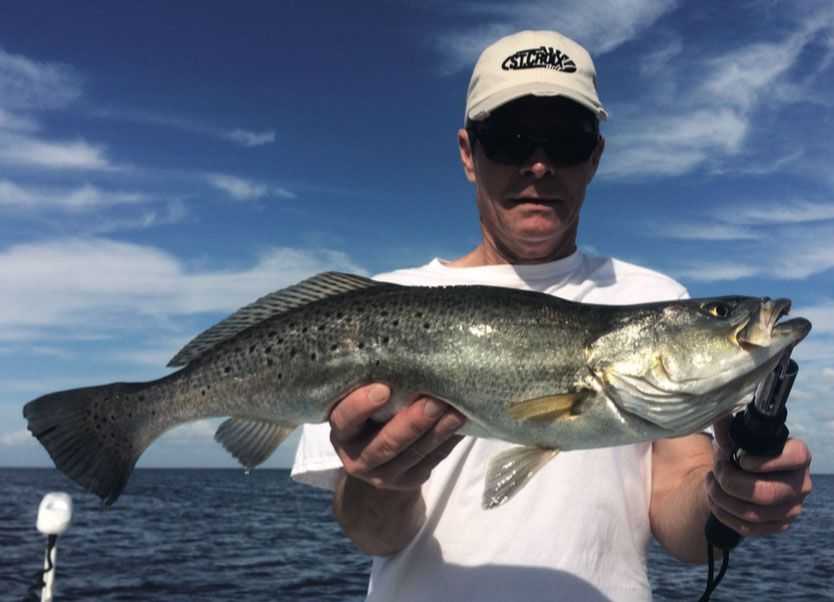 Spanish Mackerel are beginning to make their spring migration north. I have seen plenty of schools in the harbor the last week. Look for terns to be on schools of feeding fish. Also keep your eye out for fish free jumping chasing bait. If you're out looking for Trout and are having problems with bite offs these guys are likely the reason.
If you would like to experience some of south-west Florida's finest fishing give me a call or send me an email. All of our charters are private and customized to fit you and your party's needs.