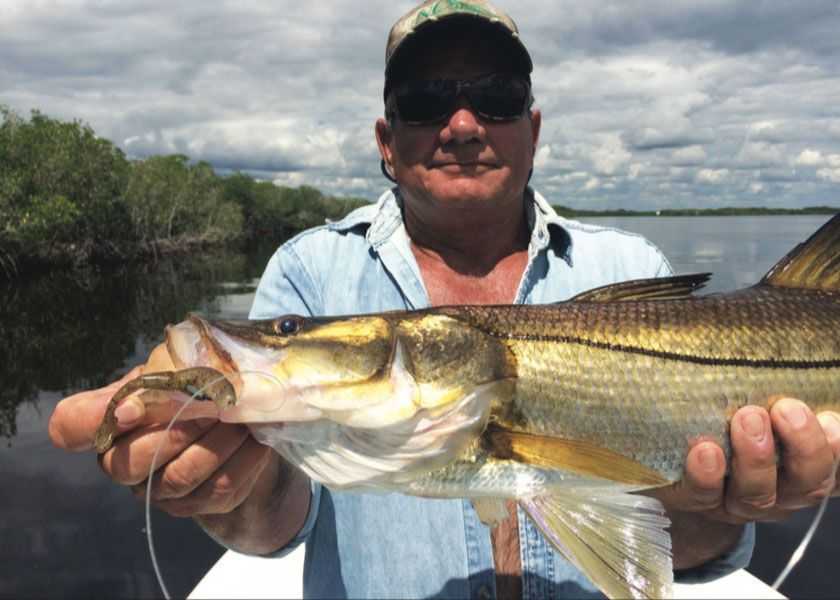 Summer is behind us and we have been having some great weather. The mornings have been nice and cool with nice warm sunny days. The water in the harbor is still tanned from the late rains that we had the last couple months. That should begin to clear up.
I would like to welcome back our friends from the north. I have had some of my seasonal clients show up early this year. It's nice to be able to show them some of the great fall fishing that we have. Normally it's after the holidays when some of them book. On a recent charter we actually boated a couple juvenile Tarpon, then boated 70-80 Snook. I believe they will be doing some more fall fishing.
The Snook fishing has been excellent. We have been catching great numbers. Most of my recent charters have been over 30 fish to the boat. With some days being well over 50. With the cooler waters Snook have been moving into deeper water though there are still good numbers of fish on the flats and around the mangroves. When targeting Snook on the flats, the best fishing has been close to deep water access.
Redfish has been doing very well. There are some schools of fish on the flats and bars. These fish are easier to locate on the lower tides. As the tides rise look toward the mangrove islands. As the water cools, local creeks will hold good numbers of fish. Most of the fish found in these areas are generally smaller.
Seatrout fishing has been steady. I have to be honest with everyone, I haven't been doing much trout fishing. The Snook fishing has been so good, I have been focusing on them. As the waters cool even more expect the trout fishing to be the main attraction. Local bars will be a great place to locate fish. Also flats with broken bottom, a mixture of grass and sand holes.
With winter approaching and the water cooling off, over all the fishing has been excellent in Charlotte Harbor. The Peace River still has a lot of freshwater flowing down. If you're an artificial guy that's not a problem. I took my Dad and my buddy Trent up river Snook fishing. We used Z-Man Paddlerz in the bad shad color. We managed to bring 25 fish to the boat. On the flats Pearl has been very effective for Snook, and Houdini for the Reds. These are a few of the Z-Man products I have been using the last month.
If you would like to experience some of southwest Florida's finest fishing, give me a call or send me an email. All of our charters are private and customized to fit your needs.