by Capt. Dave Stephens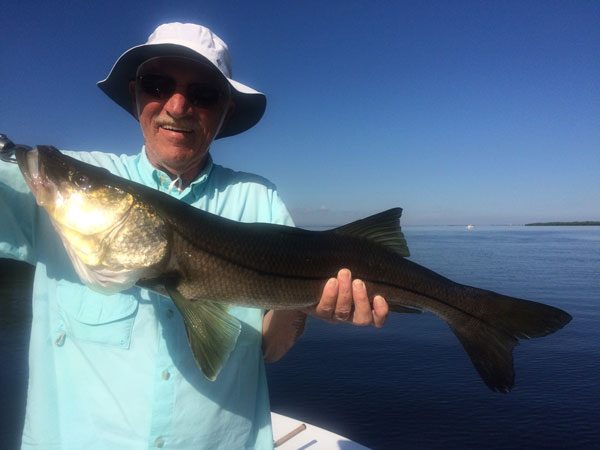 First off I would like to start by welcoming our fellow northern anglers back to Florida. November is upon us and this is the time of year a lot of fish can be on the move. Some of our local game fish will be moving close to or into deeper water as winter approaches. The two that come to mind are Trout and Snook.
Trout normally will be on and around the flats until a major front pushes through. Snook on the other hand are more fragile and will begin to move closer to deeper water.
Redfish can still be found on the flats on the lower tides. With the cooler water temperatures, rivers and creeks will begin to hold a greater number of fish. If live pilchards are still available in your area that will get the best bite. If not I would recommend shrimp or pinfish. If you're fishing over grass with shrimp or pins you might want to use a float to stay just above it. I also like to down size my line strength to 10# braid. It has the diameter of 2#, and you can cast it a mile. I pair that up with a St. Croix Tide Master Med Fast 7.5'' rod with a Daiwa Ballistic 3000 reel. Those three seem to make a deadly combo on open water fish.
Trout fishing will be getting even better with the falling water temperatures. On the lower tides outside bars have become very productive. As the tides rise, fish will move onto the flats. Look for areas that have broken bottom. Live bait such as pilchards and pinfish will get the better bites. If we have an early front that comes through these fish might seek deeper water. I don't see this happening, but you never know.
Snook will be on the move this month sometimes making them a little difficult to pinpoint. If we stay nice and warm the flats will continue to hold good numbers of fish. If we have some cooler weather in November that could push fish to deeper water. Local canals and river mouths are areas to locate deep water Snook. If you find yourself fishing these guys around heavy structure, be prepared. Big Snook are not easily pulled from docks. I recommend jumping up to 20# braid and a stiffer St. Croix Tide Master MED/HEAVY rod. You don't need a long rod in these situations since your probably making short casts. Also jumping your leader to 40# will help with the barnacles. If the water is clear you may get by with 30#. A Daiwa Ballistic has plenty of drag to turn most fish's heads. Don't be afraid to put the heat on them. Once you get them out you can go a little easier so you won't pull a hook.
If you would like to experience some of southwest Florida's finest fishing, give us a call or send us an email. All our charters are private and customized to fit you and your party's needs.