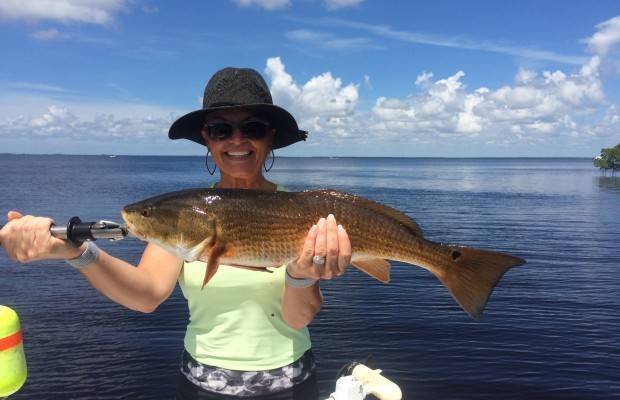 Summer time is winding down, the mornings and evenings have become much cooler and the rains have begun to slow down. Which is fine with me for we had a very wet summer. Fortunately the fish didn't seem to mind too much. The action was good all summer. That makes looking into the fall fishery even more exciting.
Its' hard to talk this time of year without beginning with Redfish. This is the time of year when these guys can be caught in many different locations and with many different techniques. One of my favorite ways is by searching for schools of Redfish. Tides can play a major role in locating schools of Reds. The lower tides make it easier to spot-sight them as they push onto the bars.
A stealthy approach is necessary since open water fish can be very spooky. Try to position your boat up tide or wind so you can slowly get into range. Also locating schools of large mullet on the flats can lead you to Reds. Mullet are vegetarians but while feeding they stir up the crabs and shrimp. We all know how much Reds like those guys. On the higher tides fish can be located around mangrove shorelines and oyster bars. For the artificial anglers this is a great time for some solid action. In the early morning Reds will aggressively hit a top water plug, but as the sun gets higher I prefer using a soft plastic.
The Snook fishing has been picking up very nicely. We have been catching a lot of under slot fish and a few over slot fish. The cooler water temperatures will get these guys on the feed. Fall is the time to catch big Snook getting ready for winter. Mangrove shorelines on higher tides is the best bet for good action. As the tide drops out you want to focus on bars and potholes. Live bait will be the bait of choice. Live sardines or a pinfish under a float.
Trout have been picking up as well. We have been catching plenty of big fish, some over twenty-four inches. The bigger Trout have been on flats adjacent to mangrove shorelines. The bars have also been holding plenty of good fish. These guys haven't been over twenty inches but there have been plenty over the fifteen inch minimum. Also the deeper flats with broken bottom have been holding good numbers of fish. Drifting is the best way to locate these guys. Live sardines have been getting the best bite. For the artificial anglers, soft plastics have been working well. Pearl and chartreuse have been the hot colors.
If you would like to experience some of southwest Florida's finest fishing. Give us a call or send an email, all our charters are private and customized to fit you and your party's needs.
See you on the water.