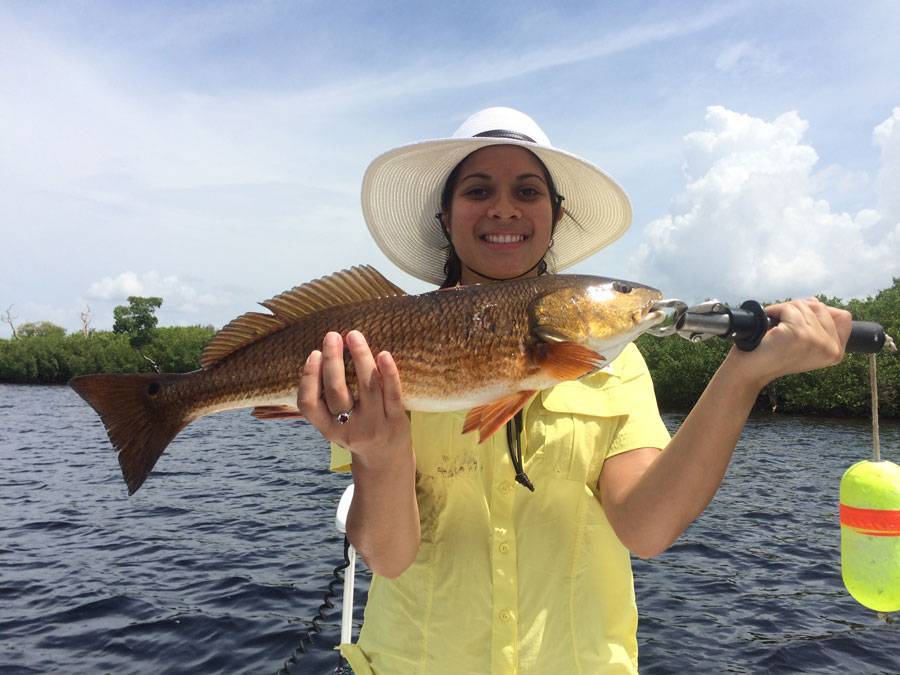 Fall is in the air, the mornings are becoming cooler and the water temperature is not boiling hot. Fishing on Charlotte Harbor is approaching some of the best fishing of the year. Snook have spawned out and are very hungry. This is the time of year when they are getting ready for winter in a few months. During the fall, locating areas that have forage fish for hungry Snook will put you on the 'sideliners'. Areas that have higher concentrations of pinfish, glass minnows and other small bait fish. Good tide flow is also important. This time of year direction is not as important as long as you have good flow. On the lower tides look for Snook in pot holes and on the flats. As the tide rises try to focus on the mangroves and mangrove points.
Fall is the time of year that I start to think about Redfish. This is the time of year when schools of redfish can be located all around Charlotte Harbor. One of the keys to locating these schools is finding mullet. Mullet are a vegetarian fish that school up in large schools on the flats. The reason why they are important for locating Reds is simple, they stir things up. They get the shrimp, crabs and baitfish moving.
Stealth is very important when fishing schools of open water fish, it's very easy to spook these guys. The key is to position yourself in front of the fish and let them come to you. A wide variety of baits can be used this time of year. Anything from sardines, pinfish and shrimp will get fish hooked up. For the artificial angler, this is one of the best times of year to target Redfish. Early in the morning they are aggressive enough to chase top water. Later in the day soft plastics are my go to bait. Water color dictates what color I throw. If I am fishing dark water I throw darker colors, such as watermelon and root beer. If I'm fishing lighter colored water, I prefer colors such as pearl and chartreuse. 
Trout fishing this time of the year is also excellent. Some of the biggest fish I have caught was during this time of year on the bars mixed in with the schools of bait. Getting an early start is key, after the flats get disturbed these big girls don't seem to bite as well. I like throwing a big top water as the sun is coming up.

 If you would like to experience some of Charlotte Harbor's finest fishing, give me a call or send us an email. All of our charters are private and customized to fit you and your party's needs.
See you on the water,
Capt. Dave Stephens