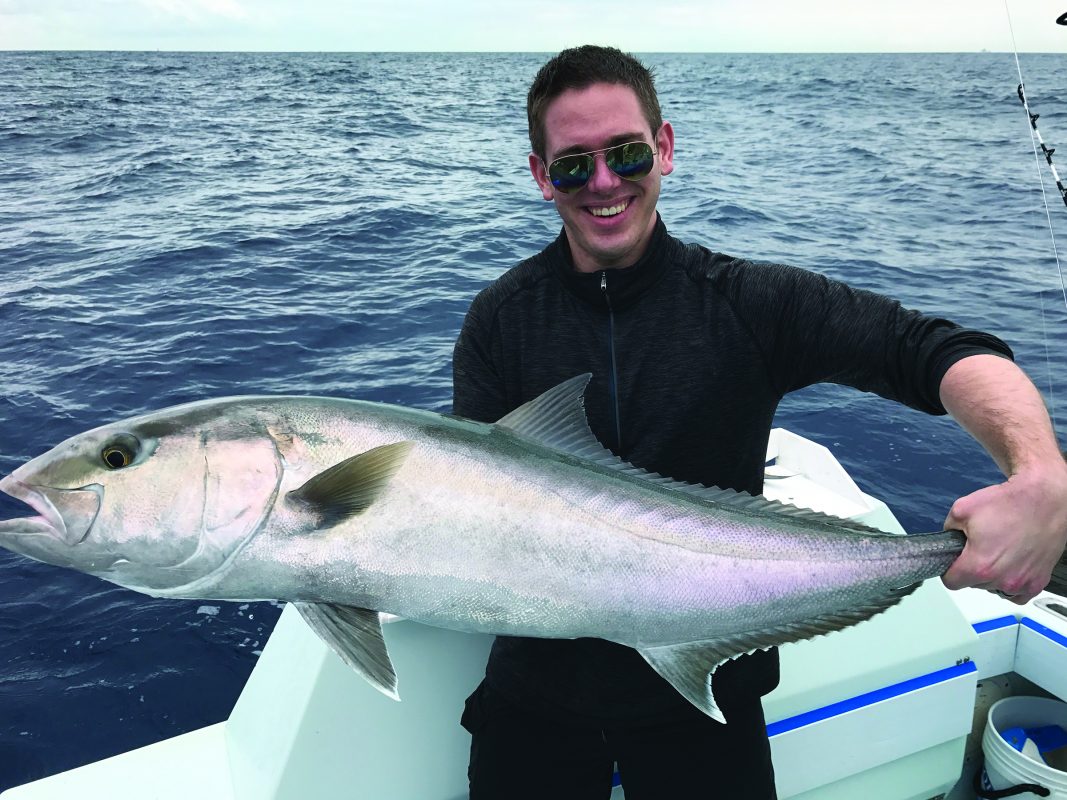 Wow! It's hard to believe that April is once again here.  The good news is that April means spring and spring is without a doubt the best time to wet a line in South Florida.  Offshore the possibilities are endless from sailfish to tuna and everything in between. Not only will we be playing host to many of the most popular game fish that swim in the Atlantic but we'll also see some of the largest specimens of the year. Before we get ahead of ourselves, lets take a look at each one in more detail.
Sailfish are without a doubt the most sought after sport fish that we target for a large portion of the year.  Most sails are caught by anglers using live bait of which many are hung from a fishing kite to make the presentation the best possible.  The great thing about using this kite/live bait combination is that you'll also catch loads of kingfish, blackfin tuna, mahi, cobia, and even the ocasional yellowfin tuna or marlin.  Yes, even marlin fall for this on a regular basis.
Other fish like kingfish and cobia will eat surface baits as well as baits fished at or closer to the bottom. It is for this reason that I always like to stagger my baits while drift fishing. On some days you may get all or most of the action on the bottom rod while on other days the surface bite will be red hot. The key to good fishing is to have plenty of quality, live baits in your well so that you get maximum output. Big baits such as threadfin herring, goggle eyes, and blue runners will draw the greatest attention from hungry predators.
Exactly what is biting will vary, so it is important to head out with a game plan.  If you're targeting big smoker kingfish you may want to stick to big baits and use a trace of wire leader to prevent cut offs from the kings razor sharp teeth.  It may also be a good idea to use a stinger hook since kingfish are notorious for short strikes (biting the tail off your bait and missing the hook). Using these techniques increases your odds with king mackerel but may turn off a picky sailfish or blackfin tuna.
Speaking of tuna, here are some of the things you may want to consider if you're looking for that sashimi dinner. Tuna have a tendency to bite best during low light hours, so it is best to target them late in the day.  Also, since tunas are often leader shy, you may want to get rid of the wire leader and go to a lighter less visible fluorocarbon leader tied to a small live bait hook.  Live chumming with small live pilchards will also dramatically stack the odds in your favor.
Whether you are targeting kings or tuna, the great thing is that you may not always get what you want but you'll often land another trophy fish that you can invite home for dinner.  Even when the meat fish aren't chewing, there still enough sailfish and bonito to fill the time in between bites.
Do yourself a favor and get out there at least once this spring.  Even if you have to work, the days are long enough that you can get 2-3 hours of fishing in before the sun sets. On many days, the bite will be going off during this magical time.
If you bring some live shrimp or crabs along, you can run in and drift the beaches for a tarpon or two before heading in.  Some of the larges silver kings of the season will be around during the month of April. The only down side to hooking one of these monsters is that the fight could go on for quite a while.
Well, that's pretty much it for right now. I will be conducting several fishing seminars at the Bass Pro Shops in Miami. Topics, dates, and times will be announced both on my FACEBOOK page and website (link below). Also, don't forget that you can keep up with all of the action by following us on FACEBOOK, Instagram, and Twitter. If you like watching some of the action, be sure to check out my YOUTUBE page for the latest video additions.
Tight lines,
Capt. Orlando Muniz
Nomad Fishing Charters
(786) 266-0171
Sponsors and friends:  Mercury Marine, Bass Pro Shops, Offshore Angler, Tracker Marine, Gray Taxidermy, Baitmasters, Orca Coolers, SeaDek, Costa Del Mar, and Yo-Zuri.