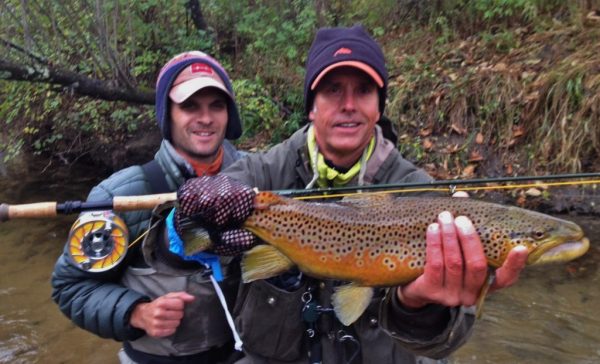 [dropcap]F[/dropcap]all, one of the most magical seasons to float the river, is here and with that comes some great fishing on the Pere Marquette River. When the fall color is at its peak, the leaves are breathtaking. The maples and oaks along the river's high banks just light up with the sun. Another thing to witness on the river is our king salmon run. The salmon this year are big, running on a fifteen-pound average with many fish up in the twenty-pound category.
As we roll into the month, the salmon will start to spawn. When this fall spawning ritual occurs the female salmon drops her eggs in the redd she had made. Some of these eggs will miss the target sending them spinning in the river currents. The eggs then become a staple for the native brown and rainbow trout along with fall steelhead. Fishing the pockets and runs behind spawning salmon with small eggs and light tippet can be a lot of fun and you can fool some trophy trout. Be on high alert, you might just hook into a silver bullet steelhead in all its chrome color fresh from Lake Michigan. If this happens, hang on – you're going on one of the Pere Marquette's best rides.
Egg flies in the fall that work best for me are more natural colors such as Salmon Roe, Steelhead Orange, Oregon Cheese, and Peach. I tie these patterns in both a nuke egg style and round egg style usually on a number 8 hook. Also smaller clown eggs in salmon, burnt orange, and steelhead orange can work well. Nowadays the craze is the bead eggs, but remember it's not a fly, you CAN'T use them in Fly Fishing Only Sections of Rivers.
Streamer fishing also heats up this time of year for trout and steelhead. Try stripping streamers that imitate leech patterns off the banks and into the pools. This can be effective for not only resident brown trout but lake run browns too especially if the water is dirty. Swinging flies starts to pick up with egg sucking leech and gobi patterns fished on a light sink tip swung downstream through the pools. As the salmon eggs start to fade away, this is my favorite method to fish for steelhead. There is nothing like the hit of a steelhead on a swung streamer. It's something every fly angler should try and feel.
Make sure you get out this fall and enjoy what our great state has to offer, Fishing, hunting to all things outdoors. Michigan is a special place for outdoor enthusiasts. Check out more up-to-date fishing reports, fly patterns, and tips at www.outfittersnorth.com