The Schulz brothers, Pete and Tommy, have been teaching, outfitting, volunteering, and raising kids to do the same in the Jupiter – Tequesta area for 25 years. Their families: Pete and Greta, Clayton, Jessie and JP along with Tommy and Stephanie, TJ and Kristina are so grateful for the opportunity to have their own business and thankful for everyone that has been a part of Fishing Headquarters success.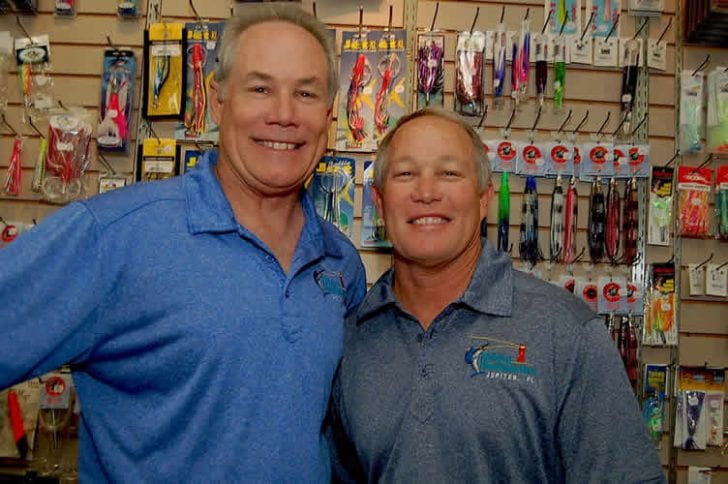 Over the years they have been involved with Boy Scouts, Saltwater Sportsman seminars, hosted seminars of their own, presentations at the West Palm Beach Fishing Club, supported the Kids Fishing Program at the Club as well as other Kids' events, Father and Son Camp outs, Tequesta Field Lab, Snook Tagging and more.  A member for 40 years, Pete has served on the Board of Directors of the WPB Fishing Club for 15 years, serving as its Chair since 2009. Tommy is not far behind, a member for 37 years.  Every Saturday morning since 1998, from 8 to 9 am they host Fishing Headquarters Live on ESPN 106.3 FM or ESPNWestPalm.com.
The Angler Community in Palm Beach County and beyond are invited to celebrate this milestone with Pete & Tommy, their families and friends Friday, Saturday, and Sunday, April 20-22.   Look for 25th Anniversary Sales with 25% off or $25 off select items.  There will be raffles throughout the weekend and a Costa giveaway with purchase.  Saturday and Sunday expect food and drinks as well as manufacturer reps on hand with giveaways. Tune in to ESPN for more details!