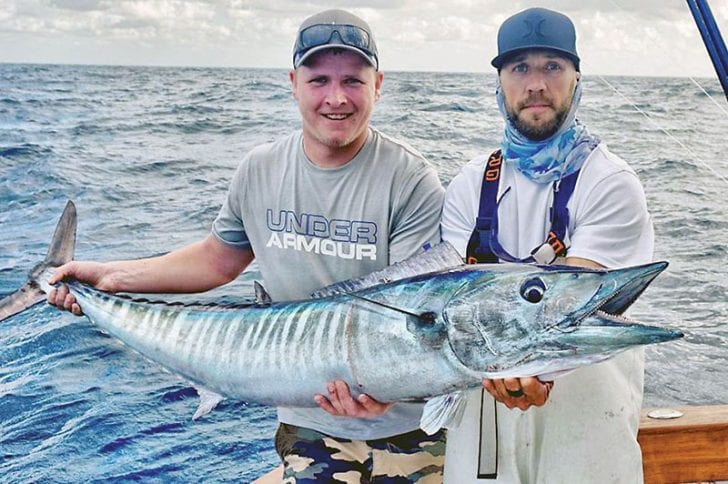 Adaptability is one of the most important attributes for a successful captain. Fall fishing in South Florida epitomizes the importance of this trait. From one day to the next things can change off of our coast during this time of year. You can't just expect to run offshore and catch dolphin every day like you did all summer. What happens when you have an early season cold front on the horizon? If you clear the reef and are met with blue water and north current, you better have brought live bait. During these conditions, kite fishing may be your best bet during November. Sailfish, dolphin, kingfish, wahoo and more are sure to be prowling the reefs during the right conditions this time of year. Put out a kite spread with some live baits and you may be in for an action packed day.
What if you have that same cold front and everything looks promising for a great day of sailfishing but you get to the edge and find green water and no current? This is a common occurrence during fall and a good captain knows how to adapt to these conditions. If the current is light, the kingfish will usually be snapping early in the morning on a November day. After trolling for kings, the next step may be to head offshore and find bluer water. If you have ugly water inshore, that usually means you'll have a harder edge offshore. The result can be blue green edges loaded with late season dolphin.
When making the decision whether to live bait or troll, water color and current are definitely the biggest factors. It always helps to leave the dock ready for everything. Many anglers decide what they will target the day before they go fishing. If the stars align, this may work out in their favor. On many occasions however, choosing your species from the dock can set you up for failure especially during seasonal changes. It is best to leave the dock prepared to live bait or troll if need be. Assess the conditions then pick your poison. The most successful charter captains are always adaptable and always prepared. This approach can be beneficial to recreational anglers as well.
Conditions don't just change by the week offshore. On many occasions they change by the day. The boats off Key Biscayne may be catching kingfish in green water during your average November morning. Travel a little further south and you may notice bluer water offshore in 300 feet. Run that edge to Triumph Reef and a blue water edge may push all the way into 100 feet. On the same day, the sailfish bite may be on fire to the south with the kingfish biting to the north. One day later, that blue water may make it to Key Biscayne and lead to a wide open sailfish bite out front. To be a productive fisherman it is crucial to be able to read the conditions and act accordingly. This is especially true during fall off South Florida.
CAPT. NICK GONZALEZ
Double Threat Fishing Charters
@DoubleThreatCharters
www.fishmiamicharters.com
(786) 505 8950
[email protected]