By Capt. Mack Davis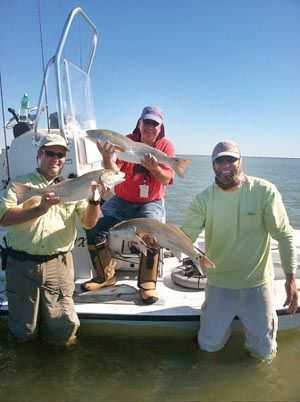 Ask me to describe the perfect fishing location and my mind conjures up images of calm, clear water over rich grass beds with white sandy potholes, perfect ambush points for hungry trout and redfish. Dolphin, sleek and shining in the sun when they broach, play carelessly in the deeper water. I see oyster reefs covered with trout, green water gently sloping to soft mud and scattered shell and long stretches of deserted shorelines with hard sand bottoms teeming with bait and wildlife. Egrets, herons, and the occasional pair of whooping cranes stalk the salt grass and mangrove marshes while deer, hogs, and coyotes roam the myriad game trails and back lake shorelines. The low roar of the surf and the cry of gulls are audible in the distance beyond the sandy dunes. In my mind, it doesn't get much better than this…
Fortunately for anyone looking to spend some time fishing the Texas coast, there is a place that offers up all this and more. Port O'Connor, Texas.
Located on Texas' central coast, Port O'Connor is a prime jumping off point for outstanding offshore fishing and some of the Lone Star state's finest inshore fishing as well. While I rarely turn down an offer to head out to blue water, my personal preference for many years has been wade fishing the many miles of productive shoreline with reach of this quiet little fishing village. The toughest part about fishing this area is deciding where to fish on any given day. For me, the choices can be narrowed down by checking wind direction and velocity for the following day. One of the greatest aspects of this particular area is the fact that you can find protected water under just about any wind direction or velocity short of a hurricane and you can find fish year round. Many of Texas' top trout and redfish venues can be totally blown out under certain wind conditions, but that is definitely not the case in POC.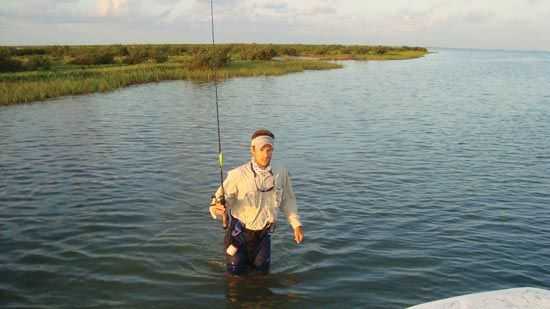 Flanked by several quality bay systems within reasonable reach by boat, POC is the logical place to launch to access Lavaca and Keller bays to the north and West Matagorda Bay to the East. If you study a fishing chart for this area, you will note that due to the many curves and bends of the shorelines, there will be clear, protected water somewhere in the area on any given day. There are also a number of protected back lakes in the area—Oyster, Boy Scout, and Airport Lakes to name a few, and they all produce world class wade fishing at certain times of the year, but especially in the warmer months.
Within minutes of the POC boat ramps, there are two areas, the "big jetties" that mark the ship channel into Port Lavaca and Pass Cavallo nearby, that produce some of the biggest trout, reds, drum, shark, and even tarpon and kingfish in the summer months. Many of the large offshore boats pass through these jetties bound for marlin blue water in the Gulf of Mexico. One of the largest and oldest billfish tournaments, the POCO Bueno, is held every year out of Port O'Connor and generally yields some impressive blues and sails during the two day event in July. Speaking of tournaments, Port O'Connor is host to more inshore tournaments than just about any other locale on the coast and the consistent quality fishing is the reason.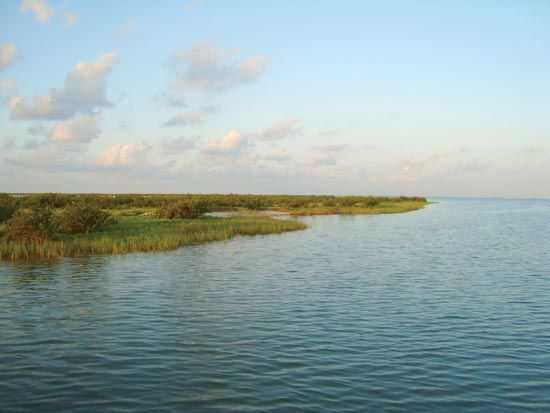 To the south and west of POC, there are countless choices for the inshore angler targeting trout, reds, and flounder. Within kayaking distance of POC are Espiritu Bay and the Mule Slough area, which offers an incredible array of small lakes, protected coves and miles of pristine shoreline. For the wade fishing angler, the bottoms in these areas can vary from soft boot sucking mud to concrete hard sand to razor sharp oyster reef. Throw in acres of grass covered bottom covered by shallow gin clear water and you have the habitat for some of the best flats fishing you will find anywhere. The myriad sloughs and bayous in this region offer protected access to miles of angling adventure and only minutes from the ramp. In the warmer months, you will find me wading the shallow shorelines in this area, throwing topwaters such as the Spook Jr. and Skitterwalk, and producing the massive explosions generated by aggressive trout and redfish as they attempt to destroy the bait imitation in front of them. If you have never fished topwater baits for big trout and reds, you have to add that to your bucket list for sure.
If you find yourself planning that Bucket List trip to Port O'Connor this year and if you're not familiar with the area, it's a great idea to contact a local guide to show you the ropes. This is one area that offers a vast array of choices from inshore wading, drifting, and jetty fishing to all day offshore adventures for anglers of all ages and skill levels. Be sure to allow several days at the very least to experience the treasures this fishing haven has to offer!