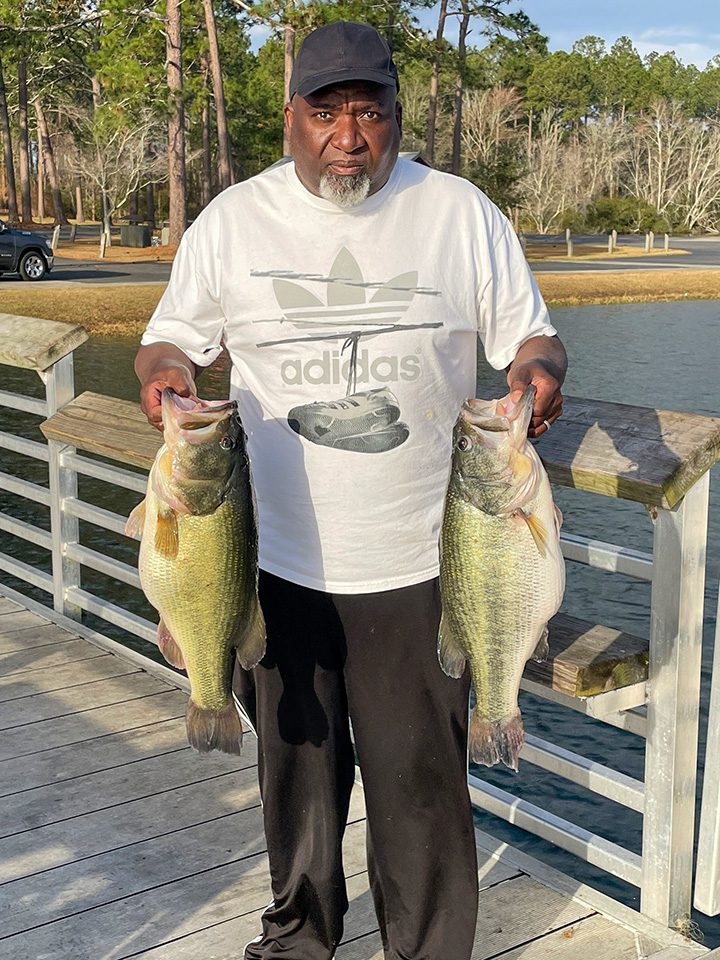 By Georgia WRD
Paradise Public Fishing Area is located on 1,351 gently rolling acres in Berrien and Tift counties, Georgia. Sixtylakes totaling 525 acres, provide excellent boat and bank fishing. Over 350 acres of water are intensively managed for fishing.
Visitors to the area will discover a variety of lakes offering anglers a wide selection of fishing opportunities. The 112-acre Lake Patrick is the largest lake at Paradise. Bank anglers have the option of fishing from three piers located in the picnic area or many other locations from the shoreline. A double boat ramp and floating dock on Lake Patrick offers boat anglers one of nine locations to launch a boat on the area.
Lake Patrick is known for producing exceptional catches of bass, bream and crappie. The north end of lake Patrick offers the best cover and is a good location for catching bass in early spring. Anglers have done well, fishing Carolina rigged plastic worms and green lizards around points and behind the many small islands.
Fishing for bluegill and redear is also very good in Lake Patrick. The lake has many sandy locations that are perfect for attracting bream during the spawn. Bedding bluegill and redear will offer an angler the chance to catch bigger than hand size bream from March–June.
Crappie fishing usually is excellent in late fall through early spring. The largest crappie have normally been caught in January and February. Using 1/32 to 1/16 oz. float–rigged jigs can produce good catches of crappie in Lake Patrick as well as several other lakes on the area.
Live fish can be used for bait at Paradise PFA.
Other lakes that make up the remaining 413 acres of fishable water are also popular for bass, bream and crappie and offer excellent fish habitats that can be easily accessed from the bank or from a boat. Lake Horseshoe 4 offers anglers a smaller lake with some of the same traits as Lake Patrick. Fishing around fish attractors and lily pads in Horsehoe 4 can produced large bass from February through May. Good populations of crappie and bluegill are also present in Horseshoe 4.
Channel catfish are stocked in most lakes at Paradise PFA, but Lakes Horseshoe 1 and 2 are stocked heavily and fed daily. Although many of the other lakes have channel catfish, these lakes provide some of the best catfishing on the area. This is just a small taste of the diverse fishing opportunities that are waiting for anglers at one of the most scenic Public Fishing Areas in Georgia.
For information, go to https://georgiawildlife.com/paradise-pfa.