Manteo, North Carolina: Builder's Choice definitely made a lasting impression in the 35th annual Pirate's Cove Billfish Tournament. Angler Harris Huddle and his team put a 911-pound blue marlin on the dock on Tuesday, the first day of fishing, and never looked back. That blue, combined with a white marlin release the same day, vaulted the New Bern crew into the lead, which they never relinquished.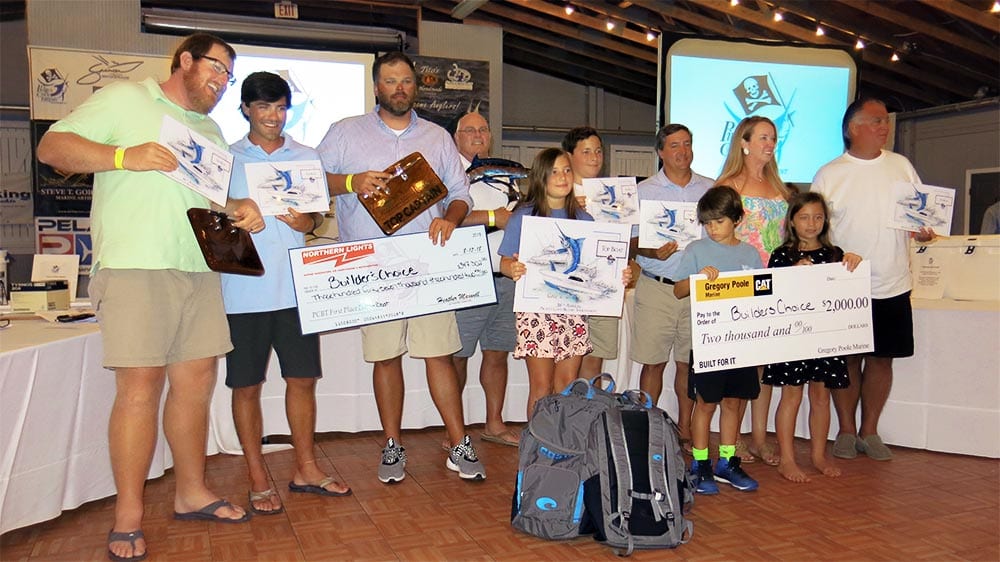 Huddle, Capt. Brent Gaskill, mate Alan "Big Country" Scibal, Meredith Huddle, John Rhodes, Tricia Stagner, Anthony Floars, Jack Huddle, Catherine Rhodes and Jobal Stagman took Top Boat honors, overall points, the blue marlin category, plus daily jackpots for a payout of $347,302 from the tournament. The team also pocketed an extra $2,000 from sponsor Gregory Poole/Caterpillar.
The fish ate a blue/green Head Sea Lure and took 30 short minutes on 100-pound test line. Hefting the giant marlin aboard the 64 Jarrett Bay subsequently broke two gaffs in the process.
"It really hasn't sunk in yet," Huddle said at Friday night's award ceremony. "I'm really proud of my captain, Brent, and the crew. We've fished eight tournaments this year and came in first in two, finished second in two more and had a third-place finish.
"There are a lot of great boats here who really know how to catch white marlin," he added. "It's a skilled fleet. We just happened to luck out with that big one."  1,822 points earned Huddle the Top Angler name.
Perennial contender Sea Toy, a 59 Paul Spencer owned by Jimmy Bayne and run by Capt. Bull Tolson, finished second overall with 900 points based on time. Anglers Bayne, Wayne Enroughty, Bob Swope, David Biggs and Dan Stephano, along with mates Shelby DeJarnette and Catlin Peele, released nine white marlin for the week. The team earned a check for $84,948 as the second place boat and points leader.
Bi-Op-Sea, another local boat that's always in the hunt, were the third-place finishers based on time. Owner Dr. Dell Dembosky, skipper Jesse Granitzki, mate Chris Stine and anglers Wendy Hayes, Cara Summers, Kayle Hall and Craig Johnson caught eight white marlin and a sailfish, good for 900 points. The team earned $128,594 for its efforts (points and daily). Hayes was also named the Top Lady Angler for the week after releasing six billfish.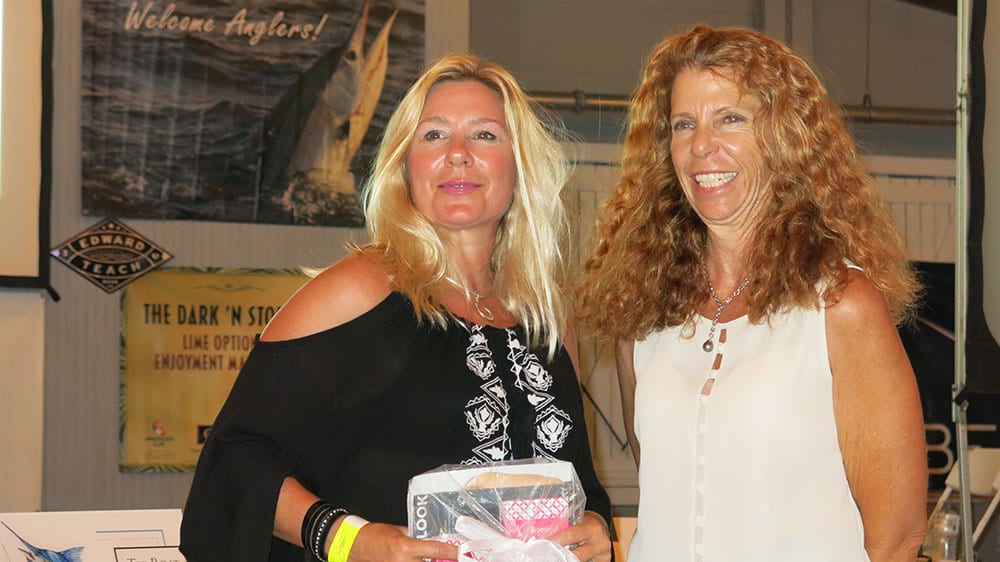 Katherine Anne (owner Brad Wachowiak and Capt. Daniel "Backlash" Davis), finished in fourth place with 850 points. Gerald Foley, Hunter Winchester and CK Gregory, Jr. were the other anglers; Mike Fulgham and Jason Peer were the mates. Katherine Anne is a 63 Paul Spencer based in Virginia Beach.
Obsession was the fifth place boat overall with 850 points. Captain/owner Jeff Ross earned a $87,010 payout based on billfish and daily jackpots. Jon Bonvetti and Tyler Sudbrink are the mates on the 55 Sheldon Midgett. Team mates included Mason Camp-Crowder, Shani Diggs, Charles Townes, Robert Crowder and Charlie Townes.
Glazed, a 58 Dean Johnson, earned $17,962 for a billfish and daily jackpot. Miles Herring owns the boat, with Jay Weaver at the helm. Other billfish daily winners included Off Duty (80 Viking/Capt. Mike Everly), Sandra D (58 Hudson/Capt. Mike Merritt) and Ann Warrick (76 Paul Mann/Capt. Brad Diaz). Those teams won $15,048 in jackpot money.
The first fish released each day paid $5,000. The early birds included Sally Girl on Day One (57 Ricky Scarborough/Capt. Jason Krahenbill), Point Runner on Days Two and Four (60 Guthrie/Capt. Chris Kubik), and also Anticipation on Day Three (61 Paul Spencer/Capt. Harvey Shiflet).
The tournament awarded Reid Yancy the top Junior Angler for the week trophy, fishing aboard Sensation with Capt. Dale Britt. Yancy released two billfish by himself to earn the title aboard the 52 Jarrett Bay.
Owner Jim Holmes, Jr. and his team mates on Coverage released five billfish to win $3,000 for the Lay Day Tournament. A local charity received $3,000. Capt. Hunter Blount, Sr. runs the 61 Sportsman.
Pirate's Cove Billfish Tournament Three Game Fish Divisions
The three game fish divisions paid out $11,440 each for the top weight for each species. David Stallings wound in the largest tuna at 55.4 pounds aboard Shenandoah, a 61 Paul Spencer with Capt. Alan Willis. Brad Ellinwood caught the largest bull dolphin, which tipped the scales at 37.7 pounds, on Sensation. Meanwhile Vic Starling whipped the largest wahoo of the week on Uno Mas, with Capt. Brooks Smith. Starling's wahoo weighed 52.8 pounds.
"It's been another great week," Pirate's Cove Billfish Tournament Director Heather Maxwell told the assembled crowd of hundreds packing the Pavilion at the Pirate's Cove Marina Friday night. "The bite was a little off by normal Outer Banks standards, but we made up for it with that monster blue brought in by Builder's Choice. I'd like to thank each and every one of you for fishing with us this year. You are the reason why the PCBT is one of the top big-game tournaments on the East Coast. Please come back again next year and bring a friend. We want to top that $1 million dollar mark in prize money."
The 2019 Pirate's Cove Billfish Tournament will be held August 12-16, at Pirate's Cove Marina in Manteo, North Carolina. Click Here For More Info