The Tennessee River Beckons Anglers from Anywhere
and Everywhere for Elite Level Bass-Catching Experiences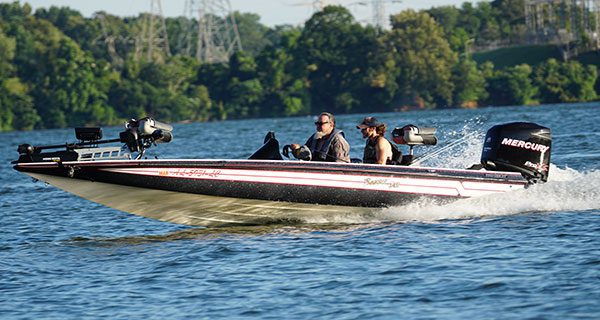 The fact that for the first time ever a guy from Canada won the Bassmaster Classic in Knoxville says a lot about how challenging, unpredictable and extraordinarily rewarding the waters of the Tennessee Valley can be.
Hooking up with victory in the 2023 Bassmaster Classic back in March was Ontario-native Jeff Gustafson's second big pro-circuit, trophy-landing event launching from the Marble City in just two years. Using his personally fine-tuned "moping" technique – hover-jigging buoyant superplastics for deep-suspended fish — "Gussy" won the 2021 Bassmaster Elite event on the Tennessee River as well.
What that says is that fishing along any of the Tennessee River's sprawling TVA lakes is that they have a singular capacity to exhilarate, exalt or frustrate anyone, no matter where they're from or how much fishing experience they possess.
"Gustafson had the tournament lead after the first day of competition, as well as the second day," recounted a blog post on Bassmaster.com after the whopper-catching Canuck landed a victory in the world-renowned tournament. "He ran the table with an incredible performance on the third and final day to claim the top prize. Gustafson is the first Canadian to take home the prize for winning the most prestigious event in the world of professional fishing."
In an interview with ExploreTRV videographer Brad Wiegmann before the derby, Gustafson hinted that even though he was fishing waters more than 1,300 miles from home, he was confident about his prospects — partly because he "got lucky" and won an event two years ago on the same stretch of Tennessee River.
"It is just an awesome place to spend the week here in Knoxville," Gustafson said as the Classic was getting underway. "I will be excited anytime as long as this place is on the schedule. If I had to choose which reservoir to fish on the Tennessee River, for big bass I would probably go with Chickamauga. But for me personally to have the best opportunity to win, I think Loudon and Tellico are right up my alley."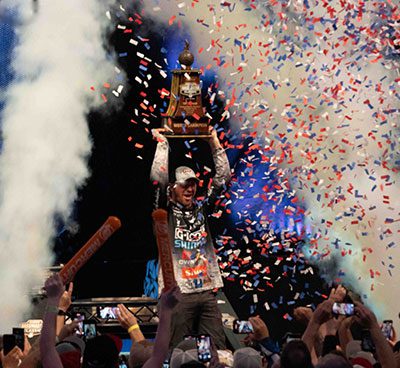 Bassmaster Classic event planners recognize something special in the Tennessee Valley as well. Four of the past 10 of their Super Bowls of Bass Fishing have been held on the Tennessee River, an honor no other river system in the country can boast. Guntersville Lake hosted the big event in 2014 and 2020, and less than a month prior to this year's downtown Knoxville showdown, Dayton, Tennessee was the launch point on Lake Chickamauga for Bassmaster's National Championship for kayak anglers.
Regional anglers who call Tennessee River lakes their home fishing holes – as well as bass wranglers who hail from faraway waters – speak highly of the Tennessee River and its chain of trophy bass producing reservoirs. Owing to the river system's clean water, lush aquatic vegetation, diverse structure and abundant bait fish, it is regarded as one of the premier fisheries anywhere in the country.
In order to be successful in competition fishing on the Tennessee River—or just to improve your chances of hooking into a fat bass on a lazy day off—it helps to develop competency in a range of angling tactics and techniques. To be consistently successful on the Tennessee River requires an angler to learn just about "every technique known to man for bass fishing," said east Tennessee native Brandon Card, a former University of Kentucky angler who was the first Bassmaster College Series angler to qualify for the Elite Series – and in 2012 was named Bassmaster Elite Rookie of the Year.
"You can go up into super shallow water, find some muddy water and fish (a couple feet) deep, or you can be out in 30 feet of water in the summertime, learning how to catch them out there on the ledges," said Card. "So, it makes you a very versatile angler, fishing the Tennessee River, and that's one reason it is so special."
The river system's versatility is evident from its headwaters to its mouth – from "end to end," said 24-year pro angler Gerald Swindle. From the waters around Knoxville "all the way down into Pickwick, where I fish a lot, to Wilson to Wheeler to Guntersville," the Tennessee River has versatility, said Swindle, ticking off a list of bass-bearing features of the lakes that make it a paradise for fish and fisherman alike.
"It's grass, it's rocks, it's bluffs, it is channel swings, it is sandbars, it's gravel bars, it's mussel bars," said Swindle. "The Tennessee River offers something that every fisherman is going to like."
The Tennessee River's growing reputation as a premier tournament fishery can be attributed to its prime habitat for both largemouth and smallmouth bass. If there is one consistent aspect to the system that puts Tennessee River lakes in the top-tier as bass fishing destinations it is the robust baitfish populations. The fertile waters teem with minnows, chubs, shiners and darters, providing ample and readily available schools of food for bass to build their populations and bulk up to hefty weights.
"The Tennessee River is probably one of the healthiest fisheries in the United States, and regardless of where you are in the Tennessee River, there is always lots of shad," said Greg Hackney, a two-decade pro and 3-time Elite Series champ. "There are all types of shad on the Tennessee River – gizzard shad, threadfin shad, Pickwick has yellowtails, skipjack herring. Without a doubt, the reason that the bass do so well is the bait population."
Hooking trophy-sized largemouth and smallmouth bass is synonymous with fishing the Tennessee River. Its net-busting bass catches make for memories that anglers of all skill levels can acquire and cherish. "It's got giants that swim all the way up and down it," said 7-time Elite Top 10 finisher Scott Canterbury of Odenville, Alabama. "It is a fertile fishery – one of the best fisheries in the United States throughout the whole river system."
The lakes of the Tennessee River Valley are managed by the Tennessee Valley Authority, and the agency goes to great lengths to ensure healthy recreational fisheries as components of both its environmental-stewardship and economic-development missions. TVA has joined forces with the Tennessee Wildlife Resources Agency and other state and federal fisheries managers to work toward creating thriving fish habitats by adapting innovative technologies and helping organize cooperative river cleanup and community conservation events.
The Tennessee Valley boasts a rich angling heritage deeply rooted in the region's culture. This manifests itself in a friendly, welcoming spirit toward visiting fishermen. Communities along legendary bass lakes like Kentucky, Pickwick, Wheeler, Watts Bar and Douglas — in addition to Guntersville, Chickamauga, Tellico and Ft. Loudon — offer an array of lodging, services and well-maintained recreation infrastructure geared toward making it easy and convenient to cast off the stresses of life on land, and get out on the water casting for lunkers.
The reverence for fishing and the great outdoors also drives communities to take active steps in preserving the Tennessee River's natural ecosystem. Volunteers form the backbone of the conservation movement in the Tennessee River Valley, and their contributions are crucial in maintaining the region's natural beauty. From organizing river clean-ups and monitoring water quality to assisting with habitat restoration projects, these dedicated individuals work tirelessly to make a positive impact.
Conservation efforts, such as habitat restoration projects, water quality initiatives, and sustainable fishing practices, have played a pivotal role in maintaining the river's pristine condition and ensuring the longevity of its bass fishery. Anglers visiting this area can appreciate not only the exceptional fishing but also the commitment of local communities towards preserving this natural treasure.