I'm a big believer in high quality polarized sunglasses for any fishing situation. But, when sight casting to fish on the flats or in shallow water, a high-quality pair of polarized sunglasses can be the difference is seeing and catching a fish of a lifetime.
Make the investment in good eyewear –
Whether stalking bonefish on the flats or sight casting to tuna in offshore blue waters, the most important piece of equipment next to the fly reel is quality polarized sunglasses that eliminate glare off the water's surface. Drugstore purchased sunglasses – forget them. All they do is make you look sharp. A pair of higher end polarized glasses is well worth your dollar.
Choose the right lenses to match the fishing conditions –
The variety of polarized lens colors choices can be very confusing for even the best angler. So here are a few guidelines when selecting your glasses:
For shallow flats, beaches and marshes: Amber lenses.
For deep water, offshore waters, and bright sunlight: Grey lenses.
For softer light, glare, and cloudy days: Yellow, light rose or amber lenses.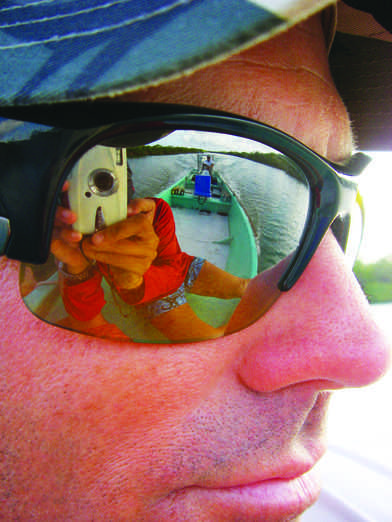 Coverage –
There are all sorts of frame styles one can choose from, but function and coverage are the most important part of choosing eyewear frames. Choose a frame providing good coverage over the eyes as well as in the temple area. Look for frames that do not let in light peripherally (from the side of the head) and choose a frame that will remain comfortable throughout a long fishing day. Lightweight frames with arms that don't pinch behind the ears should be considered.
Polycarbonate or Glass? –
When choosing a lens material the thought has traditionally leaned towards the glass, which historically surpassed plastic or other synthetics. Nowadays, however, lenses and the materials used in their making has changed dramatically with the development of outstanding synthetic lens material. The best part is that not only are they as good or better than glass but they are significantly lighter weight so wearing them all day isn't as much of a burden on your nose.
The choice is yours! –
Eyewear is a personal choice. Whether you're a hipster or lean more toward the traditional eyewear styles, the most important thing to remember is this: Lens coloration and eye coverage. Oh, and don't forget a lanyard for your glasses. It would be a shame to lose your expensive pair of shades to the deep blue sea!
A native son of Southern California, Conway Bowman, grew up fly fishing the saltwater off the San Diego coastline. He is a pioneer in the development of fly fishing for Mako sharks and other West coast saltwater species. Conway is a world traveler, author, photographer, videographer and fly-fishing/light tackle guide. He is also the host of the very popular weekly TV series "Fly Fishing the World" on The Sportsman Channel. Conway resides in San Diego California with his wife and son.