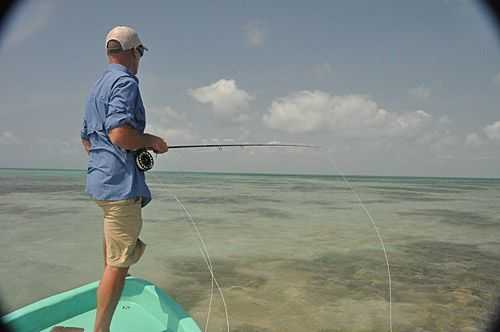 You've seen the pictures of a guy holding a nice bonefish wearing a bright-red shirt and yellow shorts. This outfit might make for an interesting picture but it's terrible for fishing. When you're trying to be as stealthy as possible, a brightly-colored fishing outfit will have fish darting for cover.
Functionality –
The most important thing to remember when purchasing attire for fishing is how functional they are when casting, wading, boating or kayaking. The fit has to allow the anger to be able to move freely without binding, pinching or rubbing, provide adequate veneration and sun protection and last but not least be able to dry quickly once wet. Columbia Sportswear offers a fantastic product line of shirts, shorts, and pants that cover both sun protection (like Omni Shield), ventilation (such as Airgill Lite), and are all quick drying and offer colors that match a variety of environments.
Match your surroundings –
Remember to always blend into your environment. Match your clothes to your surroundings. If you are fishing the beach wear neutral colors like tan, light green or even brown.  When fishing the flats a light blue shirt, and stone-colored shirts or pants are your best choice.  Also, don't overlook camouflage outfits when stalking spooky fish in shallow water. There are plenty of camouflage patterns on today's market, and aside from looking good, wearing camouflage allows you to blend into the environment a decided advantage when you are fly fishing the marshes and backwaters. If you prefer longs sleeve pull over shirts and board shorts Simms offers a great camouflage line of products in the Solarflex shirts and Surf shorts
And don't forget your feet! –
If I could fish barefooted, I would; however, this is not practical in many saltwater situations. A good pair of fishing shoes is as important as is your favorite fishing hat, shirt or sunglasses. It's important that you are properly shod for any occasion.
On the skiff –
When skiff-fishing a firm-soled shoe like a running shoe or deck shoe works well, but when I wear these types of shoes, I always apply a little modification. The first thing I do is snugly tuck in the laces, leaving no exposed dangling ends. Fly lines can hang up on anything, but the one item usually getting not much attention, if any, are those blasted loose laces, a great receptacle for hanging up your fly line and ruining a perfectly executed cast. I have known some fly fishermen who are so concerned with this problem that they run duct tape around their shoes to keep the laces securely covered.
On the beach and flats –
On today's market, there are hundreds of different types of practical shoes that will fit your needs on fishing trips. Select a shoe with high ankle support, a firm and solid toe, and stiff arch support. Since you'll be wading in a variety of bottom conditions from soft mud, soft sand, hard sand and even coral reefs, it's a good idea to get the shoe that has a thick sole to prevent punctures.  If you're wearing a stripping basket you can use sandals because there is less chance of your line getting snagged on the straps or laces.
Rocks and jetties –
Believe it or not, the best footwear for fishing from rocks and jetties are heavy-duty wading boots that provide great support; also, they are comfortable, something that may not be said of the heavy, cumbersome wader boots of years past. Most likely you'll be wearing waders when fishing from jetties or off the rocks. If you choose not to wear waders, wear two pairs of socks for a better fit. Remember that the boots, when used without the wader's built-in stocking feet, need to have the void filled for a better fit.
Don't overlook proper outerwear and footwear when fishing the saltwater fly fishing.