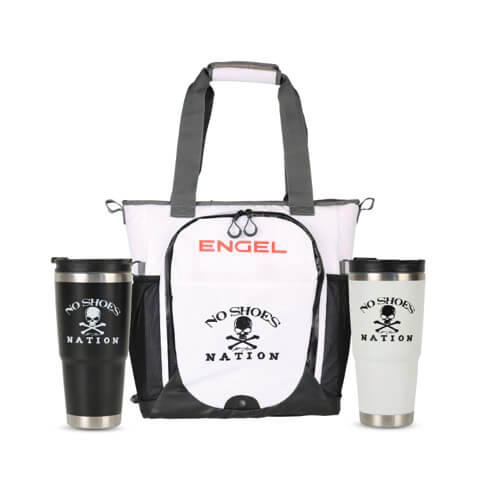 Engel has partnered with Kenny Chesney's No Shoes Nation to offer you a better way to keep #SeriouslyCool. A complete range of products will keep that "cool factor" alive for hours, days, even weeks.
With 2 inches of insulation, a rugged lid that seals tightly, virtually indestructible construction, and the No Shoes Nation logo proudly emblazoned on the front, Engel High-Performance Coolers are exactly what you need when the show goes on the road. Packing your stuff in? Grab an Engel No Shoes Nation Backpack Cooler. It's tough, easy to carry, and can hold enough food and drinks to keep the party going into the night. New NSN Backpack Coolers are coming soon, so stay tuned.
When you're ready to watch the show, sit back with your Engel No Shoes Nation Tumbler. These vacuum-insulated, stainless steel 30-ounce tumblers have a no-drip lid, and a no-skid bottom, so you can enjoy a drink without worrying about spills. Best of all, proceeds from all these sales go to supporting the CCA's National Habitat Program so there will be a waterfront for us all to enjoy long into the future. For more information, visit www.engelcoolers.com.