StandToFish Offers Comfort And Safety!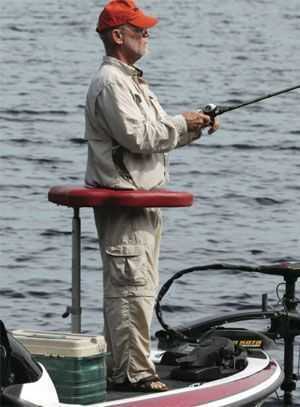 When you're more comfortable, you fish better. And if you fish from a traditional casting seat, you know the strain on your back and legs that comes from a long day balancing on a rocking deck with one foot running the trolling motor. The StandToFish seat is the solution to this fatigue. By providing support where it is needed, the StandToFish seat eliminates the stress on your back and legs, allowing you to stand comfortably on the deck all day long, especially on days with high winds and waves. There's also a safety aspect to be considered. In rough weather or in areas with a danger of submerged obstacles, the seat will keep you from being thrown overboard.
This revolutionary design can also be used like a traditional casting seat, but chances are you'll find yourself using it even in calm conditions. The StandToFish seat is easily installed to a standard seat mount and pedestal, and it comes with a lifetime warranty. Veteran owned and made in the USA, StandToFish will provide you with increased safety and better stability for long comfortable days on the water.
For information or to purchase a seat, go to www.standtofish.com. Enter the promo code ANGLER for a 15 percent discount.