We're in the home stretch of this anomaly of a year. With all that we have been through in 2020, I'm hopeful that the final month of the year will cut us some slack. What else could possibly happen?
December is a great month to get out on the water. The sailfish bite will continue to improve with each front that passes. Kite fishing is the most productive technique for sailfish, but if you don't have a kite, you can catch them by slow trolling live baits in 80 to 160 feet of water. This is the last month for targeting grouper as the season is closed from January 1st through April 30th. For your best shot, drop a live bait or a slab of bonito to the bottom around any of our artificial reefs or wrecks in 100 to 200 feet of water. If it's too windy to get offshore, the freshwater bite should be solid as both largemouth and peacock bass will be in feeding mode as they get ready to spawn in the coming months.
For those that have inquired about the Freshwater Forecast, we are happy to let you know that it's back. We'd like to welcome our newest contributor, Capt. Johnny Stabile of South Florida Fishing Charters. Each month, he will be letting us know how, when and where to find the freshwater bite.
Thank you to all of our loyal advertisers, contributors and readers for your support. We wish you and yours all the best for a Very Merry Christmas and a Happy and Healthy New Year!
Keep reelin,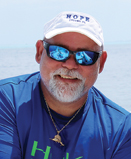 GENE DYER
Editor & Publisher
Coastal Angler Fort Lauderdale
fortlauderdale@coastalanglermagazine.com
(954) 680-3900