At 51 years old, I've learned a lot in my life. One of the things I have learned over the years is that life is precious. Each day is a gift and we must live each day to the fullest. Though I have been fishing since I was a young boy, it wasn't until I was almost 30 years old that the world of offshore fishing became my passion.
In 1999, I met Capt. Andy Grant when I was invited to tag along with my parents on a fishing trip in the Florida Keys. Like my dad, Andy was in the printing business. Unlike my dad, Andy had a passion for the ocean and offshore fishing. That day, as we left the dock, Capt. Andy instructed me to start mixing sand with the melted chum. I thought he was crazy and asked why he had me attending to the chore. He belly laughed and said, "Don't worry, you'll find out." Later that day, I found out what sand balls were and we slayed the yellowtails.
For the next 15 years, we fished together out of Bud N Mary's Marina aboard his tricked out 31' Ocean Master. He taught me pretty much everything I know about offshore fishing. All he wanted to do was go deep dropping, but eventually gave in and agreed to fish by the sailfish fleet and put me on my first sailfish. Andy passed away unexpectedly on December 5th, 2018. He was my friend and I will think of him each day that I fish for the rest of my life. Calm winds, following seas and big fish my friend. Rest in Peace.
Keep reelin,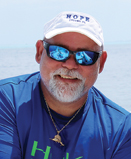 GENE DYER
Editor & Publisher
Coastal Angler Fort Lauderdale
[email protected]
(954) 680-3900