June is here and that means the 2017 Atlantic Hurricane season is upon us and will run through the end of November. Now is a great time to check up on your boat insurance coverage. Talk with your agent to make sure that you have the proper policy in place and understand the fine print in case a named storm comes our way. Take time to formulate a plan now so that you are prepared and have a safe place to store your boat during the storm. If you wait until the last minute, chances are you will be out of luck.
This month also brings some of the best fishing of the year. The kingfish bite should be really good this month with bigger fish cruising just offshore in 60 to 180 feet. The blackfin tunas will still be chasing baits a bit deeper in 100 to 300 feet. There should be plenty of dolphin around, but you'll likely have to run farther offshore to find them. Grouper season is in full swing and some big ones are out there just waiting for you to drop a fresh offering on their noses. The beaches and piers will be holding plenty of snook and tarpon as well.
Happy Father's Day to all the dads out there. I'd like to take the opportunity to say thank you to my dad for all that he's taught me over almost 50 years. Through thick and thin, he has always had my back. Thanks Dad! I love you!
As always, we welcome your comments and questions. Please send them to us at fortlauderdale@coastalanglermagazine.com. Don't forget to check us out on facebook!
Keep reelin,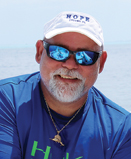 GENE DYER
Editor & Co-Publisher
Coastal Angler Magazine Fort Lauderdale
fortlauderdale@coastalanglermagazine.com
(954) 680-3900