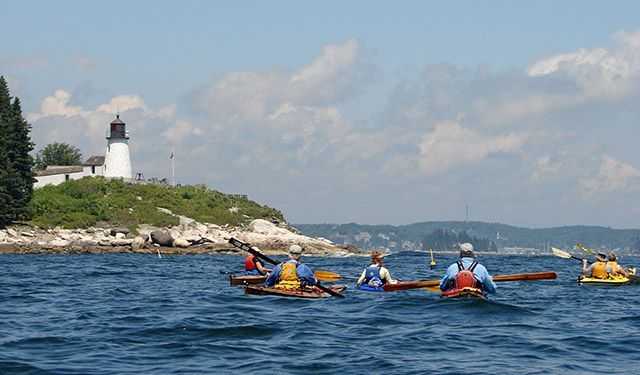 By Kayaking Sage Jack Roberts
Many years ago, when I was what we now refer to as a "tween", I gave up my comic books and started reading outdoor magazines. In those days, the early sixties, Outdoor Life and Field and Stream were the big dogs, and I subscribed to and avidly read both of them. But of all the many articles I read in those venerable publications about fishing the Yukon for arctic grayling and such, the only piece I remember in any detail was entitled, simply, "How to be Happy". I think it was written by Patrick McManus, but it could also have been done by "Tap" Tapply. The article provided four rules which, if followed strictly, the author promised, would ensure happiness to any fisherman. (I'm relatively certain that he did not say "fisherperson".) Here they are, though I'm not sure if in their original order.
"The Rule of One Lure" Never have only one of any particular lure in your box. If you do, this lure will be the only one the fish want and you will quickly lose it.
"The Rule of Three Casts" Never just quit fishing and go home. Always take three more casts.
"The Rule of Today" Whenever you hear that the fish are biting today, drop everything and go fishing. The fi sh will not be biting tomorrow.
"The Rule of Naps" When you are tired, take a nap. ( At the time I wasn't quite certain how this one fit in, but I must say that over the years I have been more faithful to "The Rule of Naps " than I have been to the other three.)
Now, fifty or so years later, I find myself presented with the chance to provide you, dear kayaking friend and avid reader, with a similarly intended list, in no particular order, of principles that will ensure, to some extent, your paddling happiness. Out of deference to the original, we will call this doctrine:
"HOW NOT TO BE UNHAPPY"
Don't cancel your trip because Weather.com says there is a chance of thunderstorms. This is Florida. There's always a chance of thunderstorms. Watch the sky and listen for thunder.
Don't paddle without your PFD. You probably won't drown and you probably won't get checked, but worrying about these consequences will have a negative effect on your "coefficient of fun".
Don't try to keep your feet dry. The contortions you put yourself through in doing this will inevitably result in unintended immersion.
Don't abuse your rudder. Without care and proper respect it will desert you when you need it most.
Don't dawdle in the channel. When you have to cross the Intracoastal, try to do it in a slow-speed zone where the channel is narrow, and accept the "Rule of Tonnage".
Don't let anyone else seal your dry-bag for you. They never do it right and the bag will always leak.
Don't trust anyone on a jet-ski. They're just different.
Don't let salt water pour out of your kayak and onto the roof of your vehicle. No matter how thoroughly you may rinse the car later, salt eventually has its way.
Don't pass up ANY chance to use "the facilities", no matter what "the facilities" look like or how yucky the mud is. You may not get another chance.
Don't worry about you hair. Nobody cares, and you can fix it later.
As you've probably already noted, especially if you've been a paddler for any length of time, this list barely ripples the surface of "How Not to be Unhappy", so we'd love to hear your ideas on the subject. Email us at Coastal Angler, and we'll see you on the water.
To reach Jack Roberts, email treasurecoast@coastalanglermagazine.com.