Quepos Fishing Report and Forecast December and January 2016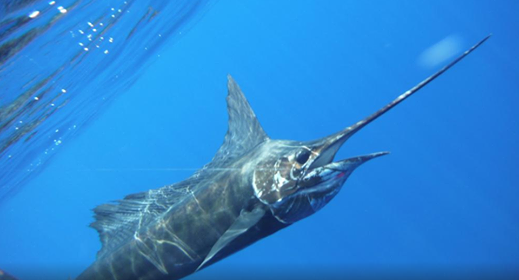 December and January are part of the peak sailfish season here in Quepos. Perfectly flat, deep blue oceans, perfect 75 degree weather, and lots and lots of sailfish out there offshore every trip.  Although there is no way to avoid several sailfish out there every trip, sometimes we will also be seeing huge dorado and marlin as well.  Dorado get really big as well, we've seen 80 pounders, and the ones in December and January are all trophies!
December and January is also part of our peak inshore fishing season.  The blue water makes its way all the way to the coast, and that crystal clear water makes it easy for the roosterfish to see our baits swimming up there on top.  That is also the time of the year where we see huge runs of sardines up and down the coast, called "Las Manchas" in Spanish (The Stains).  The sardines draw out the gamefish from their hiding spots, and right around the school typically there are tons of roosterfish, snapper, snook, Spanish mackerel, and jack crevalle. In addition to fishing around the sardine schools, around the river mouths there will also be pretty good concentrations of game fish, so inshore fishing boats will have several options.
Great fishing plus the best weather of the year will make for some awesome days out there on the water!  But keep in mind this is also the busiest time of the year for charter bookings, so make sure you line up your boat as soon as you can, as all the good boats book well in advance.
Tight Lines!
John Schuchert
Costa Rica Call: 8960-3633
US Call: 281-617-2950 (forwarded to C.R.)